BOTANICAL NAME: Vitex negundo
FAMILY: Verbenaceae
CLASSICAL CLASSIFICATION:
Charaka: Vishaghna, Krimighna
Sushruta: Surasadi
Bhavaprakash: Guduchyadi varga
ENGLISH NAME: Five leaved chaste, Indian Privet
COMMON NAME:
Hindi: Nirgundi
Punjabi: Sambhalu
Bengali: Nirgundi, Nishinda
Kannada: Lakkigida, Nekkigida, Lakkimara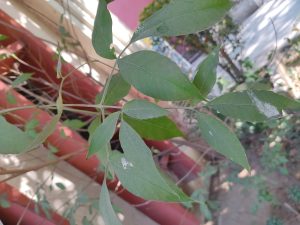 REFERENCE: BHAVAPRAKASH SAMHITA with link e Nighantu:
https://niimh.nic.in/ebooks/e-Nighantu/bhavaprakashanighantu/?mod=read
सिन्दुवारः श्वेतपुष्पः सिन्दुकः सिन्दुवारकः |

नीलपुष्पी तु निर्गुण्डी शेफाली सुवहा च सा ||९८||

सिन्दुकः स्मृतिदस्तिक्तः कषायः कटुको लघुः |

केश्यो नेत्रहितो हन्ति शूलशोथाममारुतान् ||९९||

कृमिकुष्ठारुचिश्लेष्मज्वरान्नीलापि तद्विधा |

सिन्दुवारदलं जन्तुवातश्लेष्महरं लघु ||१००||

HABITAT: Throughout India in the warmer zones; ascending to 900m in the North-western Himalayas
BOTANICAL DESCRIPTION:
It is deciduous shrub or tree found throughout India. Branchlets underside of leaves, inflorescence with short gray pubescence. Leaves are 3-5,foliate,leaflets lanceolate, green above, tomentose beneath. Flowers are small ,bluish purple in lateral chymes, calyx teeth triangular. Fruits are drupaceous and black when ripe. Seeds are obovate.
AYURVEDIC PROPERTIES:
| | | | | | |
| --- | --- | --- | --- | --- | --- |
| RASA | GUNA | VEERYA | VIPAKA | PRABHAVA | DOSHGHNTA |
| Katu, Tikta | Laghu, Ruksa | Usna | Katu | | Vata kapha hara |
AYURVEDIC ENERGETICS:
TASTE

PROPERTY

POTENCY

POST

DIGESTIVE EFFECT

EFFECT

ACTION

DOSHA

ACTION

Pungent, Bitter

Lightness, Dryness

Hot

Pungent

Kapha vata

Pacifying
MAJOR CHEMICAL CONSTITUENTS: Alkaloids-(Nishindine)
Dried powder of roots contains hen-triacontane, beta-sitosterol and its ae-tat and stigmasterol.
The leaves contain iridoid glyco-sides, isomeric flavanones and flavo-noids
THERAPEUTIC USES:
Joint pain, swelling-Matured leaves are collected and fine paste is made. This is warmed a little and applied over the joints or the area of swelling.
Asthma, cough- The leaf decoction (preferably from dry leaves) is administered in the dose of 20-30 ml twice or thrice daily.
Wounds, ulcers –The freshly prepared leaf decoction is used to wash the wounds.
Nasal discharge- 2-4 gram of powder of its fruits is administered 2-3 times a day. Or else this can be made into hot infusion and administered.
INDICATIONS :
Krimi roga Intestinal worm infestations, Kustha Skin disorders, Shoola Spasm, Gulma Tumor, Pliha roga spleen disorders, Aruchi Anorexia
USEFUL PART: Root, leaves
DOSAGE:10-20ml
AYURVEDIC FORMULATION:
Mahavisagarbha Taila
Manasa mitra vataka
Dashamool Taila