BOTANICAL NAME: Spinacia oleracea
FAMILY: Chenopodiaceae
CLASSICAL CATEGORIZATION:
BHAVPRAKASH- Shaak Varga
ENGLISH NAME: Spinach
COMMON NAME: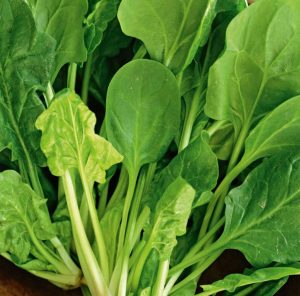 Hindi Name – Paalak shaaka, pala

REFERENCE: BHAVAPRAKASH SAMHITA with link e Nighantu:
https://niimh.nic.in/ebooks/e-Nighantu/bhavaprakashanighantu/?mod=read
पालक्या वास्तुकाकारा छुरिका चीरितच्छदा |

पालक्या वातला शीता श्लेष्मला भेदिनी गुरुः |

विष्टम्भिनी मदश्वासपित्तरक्तकफापहा ||१२||

HABITAT: Spinacia oleracea is known to be originated from south-western Asia. It is now found to be grown in most parts of the world.
BOTANICAL DESCRIPTION: Spinacia oleracea is a glabrous green erect herb, growing up to 30 – 60 cm in height. Stem is smooth and succulent. Leaves are alternate, simple, ovate to triangular-hastate in shape, lower leaves are long petioled. Flowers small, yellow green in color.
AYURVEDIC CHARACTERISTICS:
| | | | | | |
| --- | --- | --- | --- | --- | --- |
| RASA | GUNA | VIRYA | VIPAKA | PRABHAVA | DOSHGHNTA |
| Madhur | Guru | Sheet | Madhura | — | Increases vata and kapha dosha |
AYURVEDIC ENERGETICS:
TASTE

PROPERTY

POTENCY

POST DIGESTIVE EFFECT

EFFECT ACTION

DOSHA ACTION

Sweet

Heavy for digestion

Cold

Undergoes Sweet taste after digestion

–

Aggravates

Vaat & Kapha dosha
MAJOR CHEMICAL CONSTITUENTS:
Vitamin A , Vitamin K, Vitamin C ,Vitamin B2,Magnese, Magnesium, Iron, Folic Acid.
THERAPEUTIC USES:
Given in Liver disorders.

Effective in Diabetic Patients also.

Leaf Juice is consumed in Urolithiasis.

Seeds are useful in Jaundice.

Whole Plant Decoction is used to treat Fever.
INDICATIONS:
Vishakta intoxication, Swas asthma, RaktPitta bleeding disorders.
USEFUL PART:- Stem, Leaves, Root
DOSAGE:
Decoction-40-50ml, Swarasa-10-20ml