BOTANICAL NAME: Allium cepa Linn.
Family- Liliaceae
CLASSICAL CATEGORIZATION-:
CHARAKA- Shaak Varga
SUSHRUTA- Shaak Varga
BHAVPRAKASH- Haritkyadi Varga
SANSKRIT NAME: Palandu, Durgandha, Yavaneshta, Mukhdooshak, TeekshnaGandha, Ulli.
ENGLISH NAME: Onion
Hindi name– Piyaz, Pyaz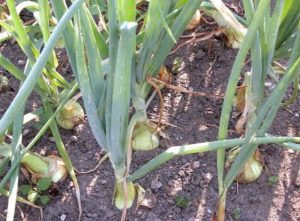 REFERENCE: BHAVAPRAKASH SAMHITA with link e Nighantu:
https://niimh.nic.in/ebooks/e-Nighantu/bhavaprakashanighantu/?mod=read
पलाण्डुर्यवनेष्टश्च दुर्गन्धो मुखदूषकः |

पलाण्डुस्तु गुणैर्ज्ञेयो रसोनसदृशो गुणैः |

स्वादुः पाके रसेऽनुष्णः कफकृन्नातिपित्तलाः |

हरते केवलं वातं बलवीर्यकरो गुरुः ||१९९||
HABITAT: An annual to bi- annual shrub cultivated in the plains of India as a source of vegetable .
BOTANICAL DESCRIPTION: It is a small plant growing to a height of 1.5 to 2.5 feet. The leaves are radical, appearing after the flowers, linear and acute. The flowers are small, pale green to white, very distant, on slender, laxly flowered racemes. The fruit is round, 0.5 to 0.8 inch in diameter having 6-8 flat seeds inside. The rhizome is round, fleshy, about 1-2 inch in diameter and brown in color. The plant is found all over India.
AYURVEDIC CHARACTERISTICS:
RASA
GUNA
VIRYA
VIPAKA
PRABHAVA
DOSHGHNTA
Madhura Katu
Guru

Sgnigdha

Teekshna

Anushana
Madhura
Veedna sthapan
Vata shamaka
AYURVEDIC ENERGETICS:
| | | | | | |
| --- | --- | --- | --- | --- | --- |
| TASTE | PROPERTY | POTENCY | POST DIGESTIVE EFFECT | EFFECT ACTION | DOSHA ACTION |
| Sweet, Pungent | Heavy for digestion, Unctous in nature, Strong | Hot | Undergoes sweet taste after digestion | Pain relief action | Pacifies vitiated vata dosha |
MAJOR CHEMICAL CONSTITUENTS: Cycloallin, quercetin, Oleanolic acid, Allyl propyl disulphide (stable oil) etc.
THERAPEUTIC USES:
Anjana of Onion juice with Honey is applied for Eye sight betterment.

Local Application of Onion paste is prescribed in Kilaas, Vyang, Nyacha

Instillation of Lukewarm Onion juice is indicated in Otalgia.

Local Application of Onion Paste is indicated in Neuromuscular pains and inflammation.

Agnivardhana- Improves Digestifiers
Medhada– improves intelligence
Psuhtida– nourishing
Ojaskara– improves immunity
Swarakara– improves voice tone and quality
INDICATIONS:
Vranashoth Inflammation, Vyang, Nyach, Kilaas Skin disorders, Vaataj Mootrakruchra Dysuria, Daurbalya Debility, MukhRoga Stomatitis, Vibandha Constipation, Kaamla Jaundice.
USEFUL PART: Bulb, Seeds
DOSAGE: Onion Juice 10-20 ml, Onion seed powder 1-3 g.
AYURVEDIC FORMULATIONS:
1. Palandu Gutika
2. Palandu Ghruta
3. Dadimpushpadya Nasya.