BOTANICAL NAME: Butea monosperma
FAMILY: Papilionaceae
CLASSICAL CLASSIFICATION:
Sushruta: Rodhradi, Mushkakadi, Ambashtadi, Nyagrodhadi gana
Bhavaprakash: Vatadi varga
ENGLISH NAME: Bastard peak, Flame of the Forest, Butea Seed
COMMON NAME:
Hindi: Dhak, Tesu, Palaash
Punjabi: Palash, Dhak, Tesu
Bengali: Palash, Palas, Palash gachha
Kannada: Muttug, Muttala, Muttuga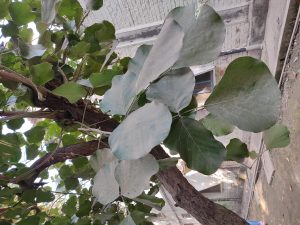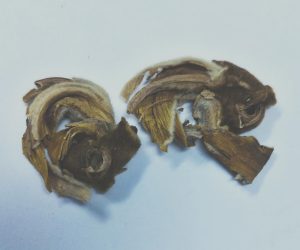 REFERENCE: BHAVAPRAKASH SAMHITA with link e Nighantu:
https://niimh.nic.in/ebooks/e-Nighantu/bhavaprakashanighantu/?mod=read
पलाशः किंशुकः पर्णो यज्ञियो रक्तपुष्पकः |

क्षारश्रेष्ठो वातहरो ब्रह्मवृक्षः समिद्वरः ||४०||

पलाशो दीपनो वृष्यः सरोष्णो व्रणगुल्मजित् |

कषायः कटुकस्तिक्तः स्निग्धो गुदजरोगजित् ||४१||

भग्नसन्धानकृद्दोषग्रहण्यर्शःकृमीन्हरेत् |

तत्पुष्पं स्वादु पाके तु कटु तिक्तं कषायकम् ||४२||

वातलं कफपित्तास्रकृच्छ्रजिद्ग्राहि शीतलम् |

तृड्दाहशमकं वातरक्तकुष्ठहरं परम् ||४३||

फलं लघूष्णं मेहार्शःकृमिवातकफापहम् |

विपाके कटुकं रूक्षं कुष्ठं गुल्मोदरप्रणुत् ||४४||
HABITAT:Throughout India, up to1,200m except in very arid regions
BOTANICAL DESCRIPTION:
Deciduous tree up to 15m in height commonly found throughout India except arid regions
Bark-bluish gray or light brown ,Leaves -long petiolate, 3 foliated, Flowers -orange red, sometimes yellow, Fruits-pods, Flowering and Fruiting time-Plants starts flowering in spring and flowering stage in march-april and fruiting time in summers or april-june.
AYURVEDIC PROPERTIES:
| | | | | | |
| --- | --- | --- | --- | --- | --- |
| RASA | GUNA | VEERYA | VIPAKA | PRABHAVA | DOSHGHNTA |
| Katu, Tikta, Kasaya | Laghu, Ruksa | Ushna | katu | | Kaphahara |
AYURVEDIC ENERGETICS:
TASTE

PROPERTY

POTENCY

POST

DIGESTIVE EFFECT

EFFECT

ACTION

DOSHA

ACTION

Pungent ,Bitter

Astringent

Lightness ,Dryness,

Hot

Pungent

Kapha

Pacifying
MAJOR CHEMICAL CONSTITUENTS:-Glycosides and Flavonoids.
THERAPEUTIC USES:
Menstrual irregularities:10-15 gram of Palasha bark is taken and decoction is made. This is taken twice daily for 12-14 days prior to the expected date of menstruation. This should be carried till the date of menstruation.
Intestinal worms-Mature seeds are collected and dried under sun shade. This is made into fine powder and taken in the dose of 1-2 gram for children and 4-5 gram for adults along with warm water.
Haemorrhoids– The resin oozed out from the stem of the tree is taken 2-3 gram and mixed with warm water and administered, especially to the children.
Skin discoloration-Fresh flowers are taken and fine paste is made. This is applied over the discolored area of the skin regularly, twice or thrice a day. This helps to restore the original skin color.
INDICATIONS :
Daha Burning sensation, Arsha Hemorrhoids, Gulma Tumor, Kustha Leprosy, Pliha roga spleen disorders, Raktapitta Bleeding disorders
USEFUL PART: Flowers
DOSAGE: 3-6 gm
AYURVEDIC FORMULATION:
Kumkumadi Taila
Vanga bhasma