BOTANICAL NAME: Withania coagulans
FAMILY: Solanaceae
CLASSICAL CLASSIFICATION:
Charaka Samhita-Brihamniya Dashemani,Madhur Skandha
English Name: Indian Rennet
COMMON NAME:
Hindi: Paneer dodi
Tamil: Amukkra
Bengali: Ashvagandha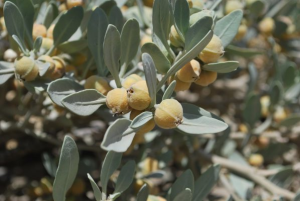 HABITAT: Shrub
BOTANICAL DESCRIPTION:
W. coagulans is a rigid gray undershrub that grows to 60–120 cm. W. somnifera is an erect, evergreen, tomentose shrub 30–75 cm in height. Its roots are stout, fleshy, cylindrical, 1–2 cm in diameter, and whitish brown in color. The leaves are simple, ovate, glabrous, and opposite. The flowers are bisexual, inconspicuous, greenish or dull yellow in color, borne on axillary umbellate cymes, and comprise five sepals, petals, and stamens each; the two-celled ovary has a single style and a bilobed stigma. The petals are united and tubular. The stamens are attached to the corolla tube and bear erect anthers that form a close column or cone around the style. Pollen production is poor. The fruit is a small, globose, orange-red berry when mature and is enclosed in a persistent calyx. The seeds are small, flat, yellow, reniform in shape, and very light in weight.
AYURVEDIC CHARACTERISTICS:
| | | | | | |
| --- | --- | --- | --- | --- | --- |
| RASA | GUNA | VEERYA | VIPAKA | PRABHAVA | DOSHGHNTA |
| Katu, Tikta, Kashaya | Snigdha, Laghu | Ushna | Katu | – | Tridosha Shamaka |
AYURVEDIC ENERGETICS:
TASTE
PROPERTY
POTENCY
POST DIGESTIVE EFFECT
EFFECT ACTION
DOSHA ACTION
Pungent, Bitter, Astringent
Light

Unuctous

Hot
Pungent
–
Pacifying Vata, Pitta & Kapha
MAJOR CHEMICAL CONSTITUENTS: Plant contains Alkaloids, steroids, phenols, withanoliodes variety.
THERAPEUTIC USES:
The fruits of this plant is soaked overnight and consumed next morning proven to be beneficial in blood sugar levels.
In dantashoola dhoompana of this plant is done.
The twigs of these plants are used as datoona.
The fruit is applied on the wound.
INDICATIONS:
Swelling Shoth, Insomnia Anidra, Bronchial Asthma Swasa, T2DM Madhumeha.
USEFUL PART: Roots, leaves ,fruits ,seeds.
DOSAGE: Juice : 10-20 ml
AYURVEDIC FORMULATION:
Paneerdoda churna