BOTANICAL NAME: Hyoscyamus niger linn.
FAMILY: Solanaceae
CLASSICAL CATEGORIZATION:
BHAVPRAKASH- Haritkyadi Varga
SANSKRIT NAME: Parsika Yavani, Yavani, Turushka, Madakarini.
ENGLISH NAME: Henbane
COMMON NAME:
Hindi: Khurasani ajwayan
Punjabi: Khurasanee ajvain, Bangidewana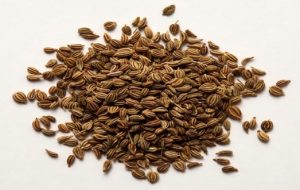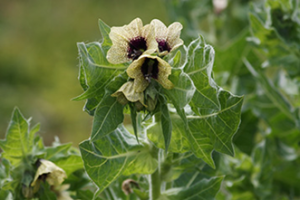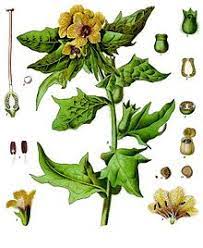 REFERENCE: BHAVAPRAKASH SAMHITA with link e Nighantu:
https://niimh.nic.in/ebooks/e-Nighantu/bhavaprakashanighantu/?mod=read
पारसीकयवानी तु यवानीसदृशी गुणः |
विशेषात्पाचनी रुच्या ग्राहिणी मादिनी गुरुः ||७२||
HABITAT: An annual or biennial herb, native to the Mediterranean region and temperate Asia, occurring in Western Himalayas from Kashmir to Kumaon.
BOTANICAL DESCRIPTION: Hyoscyamus niger, an annual or biennial herb growing up to 1.5 m tall, is thought to have been native originally to a broad region of Eurasia. It is naturalized in many regions globally and is a noxious weed in much of North America. H. niger is cultivated as a medicinal plant in many countries, and risk of introduction is likely to be associated with commercial seed or as a seed contaminant. Once established, H. niger is capable of producing thousands of highly viable seeds per plant. However, its competitive ability appears to be limited to disturbed and cultivated areas. It has oval leaves, and the color of its flowers varies from yellow to dull green with purple veins. The fruit contains 200 seeds.
AYURVEDIC CHARACTERISTICS:
RASA
GUNA
VEERYA
VIPAKA
PRABHAVA
DOSHGHNTA
Katu, Tikta
Guru, Ruksha
Ushna
Katu
Vedanasthapana,
Pittakara,

Kapha-Vaata Shamak
AYURVEDIC ENERGETICS:
| | | | | | |
| --- | --- | --- | --- | --- | --- |
| TASTE | PROPERTY | POTANCY | POST DIGESTIVE EFFECT | EFFECT ACTION | DOSHA ACTION |
| Pungent, Bitter | Light for digestion, Dry in nature | Hot | Undergoes Pungent taste after digestion | Analagesic Effect | Aggravates Pitta Dosha & Pacifies Kapha & Vaata Doshas. |
MAJOR CHEMICAL CONSTITUENTS: Tropane alkaloids hyoscyamine and hyoscine.
THERAPEUTIC USES:
Its paste is used as an anti-inflammatory and analgesic in Mastitis, Orchitis, Haemmerhoids, Joint Stiffness.

Its powder is given with suitable anupana in PME & Night Fall.

It is also proven to be effective in DUB.
INDICATIONS:
Anaha Tympanitis, Ashmari Urolithiasis, shul Pain, shvasa, Gulma, Kasa, Krimi, Unmada Psychosis, Rajahkrcchra, Svpanadosha Pre Mature Ejaculation, Udarshula Colic Pain, Anidra Insomnia, Sandhishula Arthralgia
USEFUL PART: Seeds, Leaves, Flowers
DOSAGE: 125 – 500 mg.
AYURVEDIC FORMULATION:
1. Sarpagandhaghna Vati
2. Ashmarihara Kashyaya Churna
3. Parasiyadi Churna
4. Parsikyamaniadi Churna