BOTANICAL NAME: Nyctanthes arbortristis Linn.
FAMILY: Oleaceae
SANSKRIT NAME- Parijata, Prijatak, Shephalika, Harshringarapushpak, Kharpatrak, Ragapushpi, NalaKmkuma.
ENGLISH NAME: Coral Jasmine,Night Jaismine.
COMMON NAME:
Hindi: Harshingar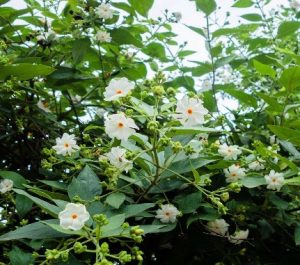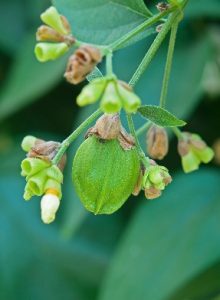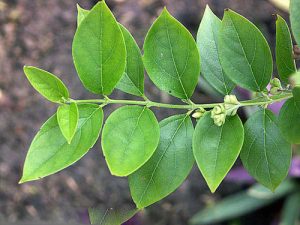 HABITAT: It is native to southern Asia, stretching across northern Pakistan and Nepal through Northern India to Southeast Thailand.
BOTANICAL DESCRIPTION:
A shrub or a small tree growing to 10 m (33 ft) tall, with flaky grey bark. The leaves are opposite, simple, long and broad with an entire margin. The flowers are fragrant, with a five- to eight-lobed white corolla with an orange-red centre; they are produced in clusters of two to seven together. The fruit is a bilobed, flat brown heart-shaped to round capsule diameter, each lobe containing a single seed.
AYURVEDIC CHARACTERISTICS:
RASA
GUNA
VEERYA
VIPAKA
PRABHAVA
DOSHGHNTA
Tikta
Laghu,Ruksh
Ushna
Katu
Raktavikar,

Kasa, swas

Kaphavatahar,

Pittasanshodhan
AYURVEDIC ENERGETICS:
TASTE

PROPERTY

POTANCY

POST DIGESTIVE EFFECT

EFFECT ACTION

DOSHA ACTION

Bitter

Light for digestion, Dry in nature

Hot

Undergoes Pungent taste after digestion

Blood Disorders,

Respiratory Disorder

Pacifies vitiated kaph &Purifies Pitta Dosha.
MAJOR CHEMICAL CONSTITUENTS: Nyctanthine,tannic acid, methylsalicylate, glycoside, mannitol.
INDICATIONS-:
Gridhrasi Sciatica, Khalitya Alopecia, Sandhivaat Osteoarthritis, Vibandha Constipation, Yakridvikara Liver disorders, Arsha Haemmorhoids, Twak Dosha Skin Disorders, Mootrakrichra Dysuria, Pleehodara Spleenomegaly.
THERAPEUTIC USES:
Seed Paste is applied in Alopecia.

Leaf Juice is helpful in Sciatica.

Leaf Bark Powder is effective in Respiratory Disorder.

Leaf Juice in Piles, Constipation, Liver Disorders.

Useful in Chronic Fevers.

Intestinal worm, Ringworm, Udakameha
USEFUL PART: Leaves, Bark
DOSAGE: Swaras 10-20 ml; Churna 1-3 gm
AYURVEDIC FORMULATION:
1. Shankhpushpi Taila
2. NashtPushpantak Rasa.
3. Manasamrita Vatakam.
4. Bala Taila
5. Ashwagandharista