BOTANICAL NAME: Kalanchoe pinnata Pers.
FAMILY: Crassulaceae
SANSKRIT NAME: Parnabija, Pattharchuur, Pattharchat, Hemsaagar.
ENGLISH NAME: Air plant, Cathedral bells
COMMON NAME:
Hindi Name– Airavati, Pathacharuti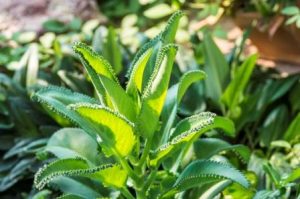 HABITAT: Parnabeeja is a small shrub growing up to a height of 1-4 feet and found abundantly in the warm and moist parts of central and eastern India. This plant is a native of Madagascar country.
BOTANICAL DESCRIPTION: Parnabeeja is a small plant growing to a height of 1-4 feet. The leaves are thick, fleshy, round to oval in shape.The flowers are 1-1.5 inch long, greenish purple in color.The seeds are small, round, slimy with small ridges
AYURVEDIC PROPERTIES:
RASA
GUNA
VIRYA
VIPAKA
PRABHAVA
DOSHGHNTA
 Kashaya, Amla
 Laghu, Rooksha
Sheeta
 Madhura
Mutral,

Vednasthapan

Kaphaghna,

Vataanuloman
AYURVEDIC ENERGETICS:
| | | | | | |
| --- | --- | --- | --- | --- | --- |
| TASTE | PROPERTY | POTENCY | POST DIGESTIVE EFFECT | EFFECT ACTION | DOSHA ACTION |
| Astringent, Sour | Light for digestion, Dry in nature | Cold | Undergoes Sweet taste after digestion | Diuretic & Analgesic | Pacifies vitiated kapha and vata dosha. |
MAJOR CHEMICAL CONSTITUENTS: Glycosides of quercetin and kaempferol and fumaric acid.
THERAPEUTIC USES:
1. Its juice is given in case of dysentery, diarrhea with blood, Haemmerhoids.
2. Effective in DUB also.
3. Local Application of its leaf paste is equally effective in Inflammation & Wound.
INDICATIONS: One of the best homeostatic action it possesses.
USEFUL PART: Leaf
DOSAGE: Swarasa 10-20 ml