BOTANICAL NAME: Coleus amboinicus Lour.
FAMILY: Lamiaceae
SANSKRIT: Parnyavani, Chornika, Karpoorvalli, Sugandhi, Parnika, Himasagar, Ashmaribheda.
COMMON NAME:
Hindi: Patta ajwain
English: Country borage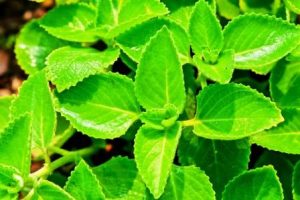 HABITAT: Its primitive abode is malacca archipelago, but its currently grown everywhere in India
BOTANICAL DESCRIPTION:
Parnayavani is a small plant growing to a height of 1- 2 feet.The stem is fleshy but has less strength. The leaves are little oval, thick, fleshy and have hair like structure beneath with strong odor. The flowers are small, purple colored and are seen in the month of May-July.
AYURVEDIC CHARACTERISTICS:
RASA
GUNA
VIRYA
VIPAKA
PRABHAVA
DOSHGHNTA
Katu, Tikta
Laghu, Ruksha, Teekshna
 Ushna
Katu
Krimirog,

Sirahshul,

Udarshul

Kaphaghna,

Vatanuloman
AYURVEDIC ENERGETICS:
| | | | | | |
| --- | --- | --- | --- | --- | --- |
| TASTE | PROPERTY | POTENCY | POST DIGESTIVE EFFECT | EFFECT ACTION | DOSHA ACTION |
| Pungent,Bitter | Light for digestion, Dry in nature, Strong | Hot | Undergoes Pungent taste after digestion | Anti-Helmenthic action, Anti-Colic | Pacifies vitiated kapha and vata dosha |
MAJOR CHEMICAL CONSTITUENTS: Contains thymol; in leaves carvacrol and camphor are major constituents. Leaves also contain a large amount of oxalacetic acid, flavonoid, cirsimaritin and beta- sitosterol
THERAPEUTIC USES:
Local application of its leaf paste is advised in Headache.

Local Application of leaf paste is also advised in case of Snake poisioning.

Patrajwain Arka is advised in case of Gastroentritis.
INDICATIONS:
Vedanasthapana Analgesic, Atisara Diarrhea, Prawahiak Dysentry, Visuchika Gastroentritis, krumi roga Helmenthiasis, Yakrut vikara Liver disorders, Ashmari Urolithiasis.
USEFUL PART: Leaf
DOSAGE: 5 to 10 ml of swaras
AYURVEDIC FORMULATION:
GrahaniMihira Taila