BOTANICAL NAME: Fumaria parviflora
FAMILY: Fumaraceae
CLASSICAL CLASSIFICATION:
Charaka: Trushna nigrahana
Bhavaprakash: Guduchyadi varga
ENGLISH NAME: Indian Fumitory
COMMON NAME:
Hindi: Pittapapada, Dhamgajra, Pittapapado
Punjabi: Shahtara, Pittapapara
Bengali: Vanshulpha, Bansulpha
Kannada: Kallu Sabbasige, Parpatu, Chaturasigide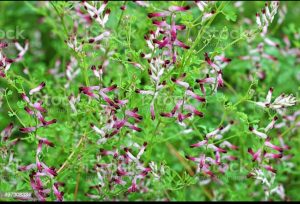 REFERENCE: BHAVAPRAKASH SAMHITA with link e Nighantu:
https://niimh.nic.in/ebooks/e-Nighantu/bhavaprakashanighantu/?mod=read
पर्पटो वरतिक्तश्च स्मृतः पर्पटकश्च सः |

कथितः पांशुपर्यायस्तथा कवचनामकः ||७९||

पर्पटो हन्ति पित्तास्रभ्रमतृष्णाकफज्वरान् |

संग्राही शीतलस्तिक्तो दाहनुद्वातलो लघुः ||८०||
HABITAT: At high altitudes in Tamil Nadu; up to 2,700 m on the Himalayas.
BOTANICAL DESCRIPTION:
It is Annual herb. Roots are Buff or cream coloured, branched, about 3 mm thick, cylindrical; taste, bitter. Stem is Light green, smooth, diffused, hollow, about 2 to 4 mm thick; taste, bitter and slightly acrid. Leaves are Compound, pinnatifid, 5 to 7 cm long, divided into narrow segments; segments 5 mm long and about 1 mm broad, linear or oblong, more or less glaucous, acute or subacute; petiole, taste, bitter. Flowers are Racemes with 10 to 15 flowers, peduncle upto 3 mm.Fruits are Capsule, 2 mm long and slightly broader, subrotund, obovate, obtuse or subtruncate, obscurely apiculate, rugose when dry; nutlets globose, upto 2 mm long, single seeded.
AYURVEDIC PROPERTIES:
| | | | | | |
| --- | --- | --- | --- | --- | --- |
| RASA | GUNA | VEERYA | VIPAKA | PRABHAVA | DOSHGHNTA |
| Tikta | Laghu | Sita | Katu | | Kaphahara, pittahara |
AYURVEDIC ENERGETICS:
TASTE

PROPERTY

POTENCY

POST

DIGESTIVE EFFECT

EFFECT

ACTION

DOSHA

ACTION

Bitter

Lightness

cold

Pungent

Kapha pitta

Pacifying
MAJOR CHEMICAL CONSTITUENTS: Alkaloids, Tannins, Sugars and salt of Potassium etc.
THERAPEUTIC USES:
Intermittent fever, cold, jaundice- Whole plant is taken (20-30 gram) and decoction is made by boiling with 240-300 ml of water. This is taken twice daily.
Obstructive jaundice, bilious headache- Fine paste of the whole plant or leaves is taken along with buttermilk.
Pimples, urticarial rashes- Equal amount of Sariva (Hemidesmus indica) and Parpataka are taken and decoction is made.
Burning sensation of the body- Parpataka and Usheera (Vetiveria zizanioides) are taken in equal amounts and cold infusion is prepared.
INDICATIONS: Daha Burning sensation, Jwara Fever, Aarochak Anorexia, Chardi Vomiting, Mada Intoxication, Raktapitta Bleeding disorders
USEFUL PART: Whole plant
DOSAGE: 1-3gm
AYURVEDIC FORMULATION:
Pacanamrta Kwatha Churna
Tiktaka Ghrita
Mahatiktaka Ghrita
Nalpamaradi Taila
Bhrihatmanjisadi Kvatha Curna
Patoladi Ghrita
Chintamani Rasa