BOTANICAL NAME: Grewia asiatica
FAMILY: Tiliaceae
CLASSICAL CLASSIFICATION:
Aacharya Charaka-Virechnopaga Mahakashaya,Jwarahara ,Shramahara
Aacharya Sushruta- Parushakadi Gana
Aacharuya Vagbhatta- Parushakadi Gana
Bhavaprakasha nighantu– Amradai Phala Varga
ENGLISH NAME: False Fruit
COMMON NAME:
Hindi: Falsa
Tamil: Palisa
Kannad: Tadasala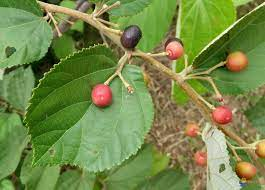 REFERENCE: BHAVAPRAKASH SAMHITA with link e Nighantu:
https://niimh.nic.in/ebooks/e-Nighantu/bhavaprakashanighantu/?mod=read
भावप्रकाश-पूर्वखण्ड-मिश्रप्रकरण – ७. आम्रादिफलवर्ग

परूषक

परूषकं तु परुषमल्पास्थि च परापरम् |

परूषकं कषायाम्लमामं पित्तकरं लघु |

तत्पक्वं मधुरं पाके शीतं विष्टम्भि बृंहणम् |

हृद्यन्तु पित्तदाहास्रज्वरक्षयसमीरहृत् ||८२||
HABITAT: Shrub or Small tree
BOTANICAL DESCRIPTION
It is a shrub or small tree growing to 8 m tall. The leaves are broadly rounded, 5–18 cm long and broad, with a petiole 1–1.5 cm long. The flowers are produced in cymes of several together, the individual flowers about 2 cm diameter, yellow, with five large (12 mm) sepals and five smaller (4–5 mm) petals. The fruit is an edible drupe 5–12 mm diameter, purple to black when ripe
AYURVEDIC CHARACTERISTICS:
| | | | | | |
| --- | --- | --- | --- | --- | --- |
| RASA | GUNA | VEERYA | VIPAKA | PRABHAVA | DOSHGHNTA |
| Madhura | Laghu, Snigdha | Sita | Madhura | – | VataPitta Shamaka |
AYURVEDIC ENERGETICS:
TASTE
PROPERTY
POTENCY
POST DIGESTIVE EFFECT
EFFECT ACTION
DOSHA ACTION
Sweet
Light

Unuctous

Cold
Sweet
–
Pacifying vata and pitta
MAJOR CHEMICAL CONSTITUENTS: Plant contains B-Amyrin, Buteol, Lupeol
THERAPEUTIC USES:
FEVERS- Fruit juice is recommended in fevers.
PILES- Paste of Parushaka is applied locally over the pile mass.
KSHAYA-Decoction of fruit does the brimhan karma of dhatu.
INDICATIONS:
Burning Sensation Daha, Piles Arsa, Emaciation Kshaya, Fever Jwara
USEFUL PART: Fruit,Roots, leaves
DOSAGE: Fruit juice : 10-20 ml
AYURVEDIC FORMULATION:
Parushakadi Leha
Drakshadi Kashayam
Chandanadi Tailam