BOTANICAL NAME: Bergenia lingulata
FAMILY: Saxifragaceae
CLASSICAL CLASSIFICATION-:
CHARAKA- Mutravirechniya mahakshyaya
SUSHRUTA- Virtarvadi Gana
BHAVPRAKASH- Haritkyadi Varga.
SANSKRIT NAME:
Pashanbheda, Ashmbheda, GiriBheda, Bhinnayojini, Ashmaghna, Pashanbhedak.
ENGLISH NAME: Velvet Leaf
HINDI NAME: Pakhanbheda, Dakachu, Silabheda, Popal,Vanapatrak.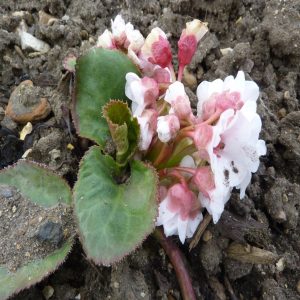 REFERENCE: BHAVAPRAKASH SAMHITA with link e Nighantu:
https://niimh.nic.in/ebooks/e-Nighantu/bhavaprakashanighantu/?mod=read
पाषाणभेदकोऽश्मघ्नो गिरिभिद्भिन्नयोजिनी |

अश्मभेदो हिमस्तिक्तः कषायो बस्तिशोधनः |

भेदनो हन्ति दोषार्शोगुल्मकृच्छ्राश्महृद्रुजः |

योनिरोगान्प्रमेहांश्च प्लीहशूलव्रणानि च ||१६२||

HABITAT: It is mostly found in temperate regions of the Himalayas from Kashmir to Bhutan and in Khasia hills at 1,500 m (4,900 ft) altitude.
BOTANICAL DESCRIPTION:
A small perennial herb found throughout temperate Himalayas have thick root stock, Stem is short and fleshy,small plant growing closely appressed to rocks.Leaves are ovate, entire, ciliate, glaborous on both surfaces.Flowers are white, pink or purple.Fruits are globose, style long.
AYURVEDIC CHARACTERISTICS:
RASA
GUNA
VIRYA
VIPAKA
PRABHAVA
DOSHGHNTA
Tikta

Kasaya

Laghu
Sita
Katu
Bhedana

Vastishodhana

Tridoshashamak
AYURVEDIC ENERGETICS:
| | | | | | |
| --- | --- | --- | --- | --- | --- |
| TASTE | PROPERTY | POTENCY | POST DIGESTIVE EFFECT | EFFECT ACTION | DOSHA ACTION |
| Bitter, Astringent | Light for digestion | Cold | Undergoes Pungent taste post digestion | Purifies Urinary Bladder | Pacifies vitiated Tridoshas |
MAJOR CHEMICAL CONSTITUENTS: Tannic acid, gallic acid and glucose
THERAPEUTIC USES:
Decoction of Pashanbheda is taken in Urolithiasis.

Helpful in Dysmennorhea.

Local application of its paste in vranashotha & netrabhishyanda.

Powder is applied locally with honey over the gums in dantodbhedjnya updrava in shishu.
INDICATIONS:
Ashmari Vesicle Calculus, Mootra Kruchra Dysuria, Jwar Fever, Yonivyapad Vaginal Disorders.
USEFUL PART: Rhizomes
DOSAGE: 3-6 g of the drug in powder form. 20-30 g of the drug for decoction.
AYURVEDIC FORMULATION:
1. Asmarihara Kasaya Curna
2. Mutravirecaniya Kasaya Curna
3. Pashanbhedadi Kashyaya
4. Pashabhedadi Ghruta
5. Varunadi kashyaya
6. Vidari Ghruta
7. Bhadrahva Ghruta
8. Shilodbhidadi Taila
9. Bruhatgokshuradya Leha
10. Kushadya Ghruta
11. Pradarantaka Loha
12. Saraswata Ghruta