BOTANICAL NAME: Stereospermum suaveolens
FAMILY: Bignoniaceae
CLASSICAL CLASSIFICATION:
Charaka: Sothahara
Sushruta: Aragvadhadi, Brihat pancha moola, Adhobhagahara
Bhavaprakash: Guduchyadi varga
ENGLISH NAME: Rose Flower Fragrant
COMMON NAME:
Sanskrit Name: Amogh
Gujarati Name: Podal
Hindi Name: Podal
Kannada Name: Padramora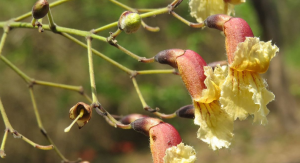 REFERENCE: BHAVAPRAKASH SAMHITA with link e Nighantu:
https://niimh.nic.in/ebooks/e-Nighantu/bhavaprakashanighantu/?mod=read
पाटलिः पाटलाऽमोघा मधुदूतो फलेरुहा |

कृष्णवृन्ता कुबेराक्षी कालस्थाल्यलिवल्लभा ||१६||

ताम्रपुष्पी च कथिताऽपरा स्यात्पाटला सिता |

मुष्कको मोक्षको घण्टापाटलिः काष्ठपाटला ||१७||

पाटला तुवरा तिक्तानुष्णा दोषत्रयापहा |

अरुचिश्वासशोथास्रच्छर्दिहिक्कातृषाहरी ||१८||

पुष्पं कषायं मधुरं हिमं हृद्यं कफास्रनुत् |

पित्तातिसारहृत्कण्ठ्यं फलं हिक्कास्रपित्तहृत् ||१९|
HABITAT: It is found throughout the moist parts of the country.
BOTANICAL DESCRIPTION:
Patala tree is around 25m long. It is cylindrical in shape, extremely externally brown to creamy, rough due to vertical fissures, cracks, ridges and transverse fine lenticels, internally dark brown.Leaves are 30-45cm long, imparipinnate, opposite,Petiole is short.
AYURVEDIC PROPERTIES:
| | | | | | |
| --- | --- | --- | --- | --- | --- |
| RASA | GUNA | VEERYA | VIPAKA | PRABHAVA | DOSHGHNTA |
| Tikta, Kasaya | Laghu, Ruksha | Anushan | Katu | | Tridoshahara |
AYURVEDIC ENERGETICS:
TASTE

PROPERTY

POTENCY

POST

DIGESTIVE EFFECT

EFFECT

ACTION

DOSHA

ACTION

Astringent, Bitter

Dryness, Lightness

not very Hot

Pungent

Kapha vata pitta

Pacifying
MAJOR CHEMICAL CONSTITUENTS: Bark contains crystalline bitter substance.
The leaves contain a flavone, stereolensin.Bark – iridoid glycoside;Root bark-n-triacontanol and beta-sitosterol;Root heartwood – lapachol, dehydro-alpha-lapachone and dehydrotectol. Ceryl alcohol, palmitic, stearic and oleic acids.
THERAPEUTIC USES:
Fever- Decoction of roots is made
Hiccups- The flowers are used with honey
Leprosy- Paste of fruits are applied on affected part
INDICATIONS:
Shwasa Asthma/Bronchitis, Shotha Swelling, Chardi Vomiting, Arsa Hemorrhoids, Hikka Hiccups, Trisha Thirst, Rakta vikara Blood disorders
USEFUL PART: Root bark, flower, seed, leaf, kshara.
DOSAGE: 5-10 g. (Powder) ,25-50 ml. (Decoction).
AYURVEDIC FORMULATION:
Amritarishta
Dashmoolarishta
Bharangi guda
Dhanvantri taila
Dashamoola kwatha churna