BOTANICAL NAME: Eclipta alba
FAMILY: Asteracae
CLASSICAL CLASSIFICATION:
Bhavprakash– Gduchyadivarga
ENGLISH NAME: false daisy
COMMON NAME:
Kannad – GaragadaSoppu, Garga
Punjabi– Bhangra
Hindi– Bhangra
Bengali– Kesuriya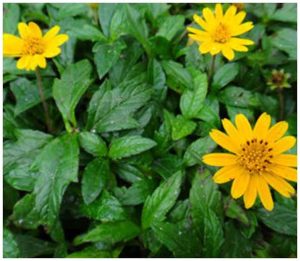 REFERENCE: BHAVAPRAKASH SAMHITA with link e Nighantu:
https://niimh.nic.in/ebooks/e-Nighantu/bhavaprakashanighantu/?mod=read
HABITAT: This herb is found throughout India, especially in marshy places.
BOTANICAL DESCRIPTION: This plant has cylindrical, grayish roots. The solitary flower heads are 6–8 mm (0.24–0.31 in) in diameter, with white florets. The achenes are compressed and narrowly winged.
AYURVEDIC CHACTERISTICS
RASA

GUNA

VEERYA

VIPAKA

PRABHAVA

DOSHAGHNTA

Katu

Tikta

Rooksha

Laghu

Ushna
Katu
Keshya
Vatahar

Kaphahar
AYURVEDIC ENERGETICS
TASTE
PROPERTY
POTENCY
POST DIGESTIVE EFFECT
EFFECT

ACTION

DOSHA ACTION

Pungent

Bitter

Dryness, light

Hot

Pungent

Hair growth

Vatakapha

Pacifying
MAJOR CHEMICAL CONSTITUENTS: Ecliptic, Wedelolactone, Des-me thyl wedelolactone, stigmasterol, Heptacosanol, Hentriacontanol, sixteen polyacetylenic thiophenes etc.
THERAPEUTIC USES:
Headache-It is used for nasya (nasal drops), after mixing with goat milk.
Abscess-The seeds are used for aphrodisiac therapy, its paste is applied over wounds.
INDICATIONS
Vishaghana Anti poisonous, Shwasahara Asthma, Kushtahara skin disease, Chakshushya Eye disorder
 USEFUL PART: Whole Plant
DOSAGE: Fresh Juice 5-10 ml, Powder – 250 mg – 2 grams in divided dose per day, or as advised by Ayurveda doctor
AYURVEDIC FORMULATIONS
1. Bhringarajasavam
2. Bhringamalakaditailam