BOTANICAL NAME: Salvadora persica Linn.
FAMILY: Salvadoraceae
CLASSICAL CLASSIFICATION:
CHARAKA- Virechnopaga, Shirovirechana, Jwarahar, Katuskandha
SUSHRUTA- Shirovirechana
BHAVPRAKASH- Amradi Phala Varga
SANSKRIT NAME: Guda phala, Teekshnataru, Sramsi, Shakhi, Karbhavallabha, Sheetasaha, Sahasrangi, Virechanaphala, Shyama, Galaphala
ENGLISH NAME: Salt bush, Tooth brush Tree
HINDI NAME: Meswak, Jhak, Peelu, Pilu, Kharjaal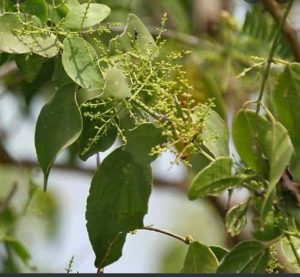 REFERENCE: BHAVAPRAKASH SAMHITA with link e Nighantu:
https://niimh.nic.in/ebooks/e-Nighantu/bhavaprakashanighantu/?mod=read
भावप्रकाश-पूर्वखण्ड-मिश्रप्रकरण – ७. आम्रादिफलवर्ग

पीलु

पीलुर्गुलफलः स्रंसी तथा शीतफलोऽपि च |

पीलु श्लेष्मसमीरघ्नं पित्तलं भेदि गुल्मनुत् |

स्वादु तिक्तञ्च यत्पीलु तन्नात्युष्णं त्रिदोषहृत् ||१०६||
HABITAT: Found in all districts of Karnataka, Belgaum, Tamil Nadu.
BOTANICAL DESCRIPTION:
Salvadora persica is a small tree or shurb with a crooked trunk, typically 6–7 metres (20–23 ft) in height. Its bark is scabrous and cracked, whitish with pendulous extremities. The root bark of the tree is similar in colour to sand, and the inner surfaces are an even lighter shade of brown. It has a pleasant fragrance, of cress or mustard, as well as a warm and pungent taste. The leaves break with a fine crisp crackle when trodden on. The tree produces small red edible fruits, juicy but pungent, in clusters. Leaves are 3 to 10 cm in length and 1 to 4 cm in breadth, green, simple, stipulate, petiolate, oblong, ovate, margin entire, broad at base and acute at apex; veins prominent and raised on lower surface; both surfaces glabrous; taste and odour characteristic.
AYURVEDIC CHARACTERISTICS:
| | | | | | |
| --- | --- | --- | --- | --- | --- |
| RASA | GUNA | VIRYA | VIPAKA | PRABHAVA | DOSHGHNTA |
| Katu, Tikta | Tiksna Laghu Sara Snigdha | Usna | Katu | Vedanasthapana, Vidahi, sirovirecaka, sothahara, Bhedana, Dipana | Vatahara Kaphahara |
AYURVEDIC ENERGETICS:
TASTE

PROPERTY

POTENCY

POST DIGESTIVE EFFECT

EFFECT ACTION

DOSHA ACTION

Pungent, Bitter

Strong, Light for digestion,

Unctous in nature

Hot

Undergoes Pungent taste after digestion

Analgesic, Anti-inflammatory,

Nasal Purgative,

Carminative

Pacifies vitiated Vaata & kapha dosha
MAJOR CHEMICAL CONSTITUENTS: β-sitosterol, glucotropaeolin, terpenes and flavonoids
THERAPEUTIC USES:
The oil extracted from its seeds is applied over joints in case of rheumatoid arthritis.

The cold infusion or decoction prepared from leaf is given in 40-50 ml dosage to cough patient.

Hot fomentation of its leaf is indicated in joint with pain & inflammation.

Cold infusion prepared from fruit is given in 40-50 ml dosage in case of fever.

The paste from root and root bark is applied over affected are from snake bite in order to reliev from pain & inflammation.

The small twigs from meswak tree is used as tooth brush.

The ripened fruit is consumed in Constipated Bowel.

The powder of seeds is used in pradhaman nasya in case of Rhinitis & Sinusistis.

The seeds are used in virechana karma.

The paste of leaf is applied over external pile mass as a part of treatment.
INDICATIONS:
Asmari Urolithiasis , apaci Lymphadenitis Arsa Haemmorhoids, Bastivikara Urinary Bladder Disorders, Bhagandara Fistula, anaha Constipation, Gulma Abdominal Lump, Jvar Fever, krmi Helmenthiasis, mutrakrcchra Dysuria, Nadivrana Sinus, Udavarta, Udararoga abdominal disorders, Vatarakta Gout, sarpavisa Snake bite, Yonivyapat Vaginal disorders, Dustavrana Infected Wounds, Vransotha Inflammation, Mukhapaka Stomatitis, Madyaja Trsna, Pliharoga Splenic disorders, SarvaKustha Skin Disorders
USEFUL PART: Fruit, Seed, Leaf and Root bark
DOSAGE: 5-10gm
AYURVEDIC FORMULATION:
Pilu Talia