BOTANICAL NAME: Piper longum
FAMILY: Piperaceae
CLASSICAL CLASSIFICATION:
Charaka: Deepaniya, Shoola Prashamana
Sushruta: Pippalyadi
Bhavaprakash: Haritakyaadi varga
ENGLISH NAME: Piper root
COMMON NAME:
Hindi name- Piparamula
Punjabi name- Pippali Mula, Magha
Kannada name- Modikaddi, Hippali, Tippali
Gujarati name- Ganthoda, Ganthoda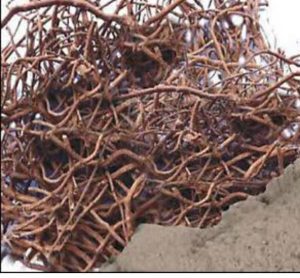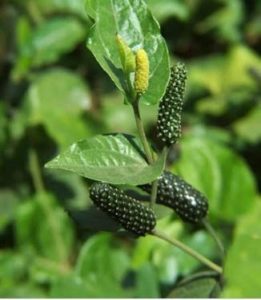 REFERENCE: BHAVAPRAKASH SAMHITA with link e Nighantu:
https://niimh.nic.in/ebooks/e-Nighantu/bhavaprakashanighantu/?mod=read
ग्रन्थिकं पिप्पलीमूलमूषणं चटकाशिरः |
दीपनं पिप्पलीमूलं कटूष्णं पाचनं लघु |
रूक्षं पित्तकरं भेदि कफवातोदरापहम् |
आनाहप्लीहगुल्मघ्नं कृमिश्वासक्षयापहम् ||५९||
HABITAT: It is found in native hotter part of the country in Bengal and Southern states.
BOTANICAL DESCRIPTION:
Piper longum is perennial herb with a thick, erect, jointed, branched rootstock, stems numerous 60—90 cm long,, ascending or prostrate (not climbing), much branched, stout, cylindrical, thickened above nodes, finely pubescent. The leaves are 5-9 cm long and 5 cm wide; lower leaves are broadly ovate, deeply, cordate with big lobes at the base, sub acute, entire and glabrous; upper leaves are dark green. Flower are unisexual arranged in erect spikes.
AYURVEDIC PROPERTIES:
| | | | | | |
| --- | --- | --- | --- | --- | --- |
| RASA | GUNA | VEERYA | VIPAKA | PRABHAVA | DOSHGHNTA |
| Katu | Laghu, Ruksa | Usna | Katu | | Kapha-Vatahara |
AYURVEDIC ENERGETICS:
TASTE

PROPERTY

POTENCY

POST

DIGESTIVE EFFECT

EFFECT

ACTION

DOSHA

ACTION

Pungent

Dryness, Lightness

Hot

Pungent

Kapha vata

Pacifying
MAJOR CHEMICAL CONSTITUENTS: Essential oil, Piperine, B,-sitosterol, cepharadiones etc.
THERAPEUTIC USES:
Cold, cough, and congestion- Pippali roots can be taken in the form of tea.
Enlarged liver, and spleen- Five grams root powder, and one gram pippali fruit powder is boiled in 200 ml water, and cooked for a few minutes.
Sleeplessness, and high blood pressure- Pippla Moola churna should be taken with cold water, twice a day.
Headache- The decoction of roots is prepared by boiling the 2 tablespoons of roots in one glass of water, and cooking till water reduces to half cup.
INDICATIONS:
Anaha Abdomen fullness, Gulma Tumor, Krimi Roga Worm infestation, Udara Roga Ascites, Vataroga Neuralgia, Kasa Cough, Shwasa Asthma
USEFUL PART: Root
DOSAGE: 0.5-1g of the drug in powder form.
AYURVEDIC FORMULATION:
Panchkol churna
Dasamula tail
Dasamula Pancakoladi kwatha churna
Dasam ulastapalaka Ghrita