BOTANICAL NAME: Paederia foetida Auct
FAMILY: Rubiaceae
CLASSICAL CLASSIFICATION:
BHAVPRAKASH- Guduchyadi Varga
SANSKRIT NAME: Sarini, Gandhprasarini, Balya, Gandhadhyaya, Rajbala, Bhadraparna
COMMON NAME:
Hindi: Gandhaprasarani or Pasaran, Suprasara, Sarani
English: Chinesemoon creeper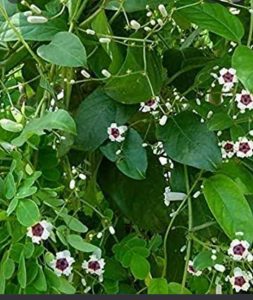 REFERENCE: BHAVAPRAKASH SAMHITA with link e Nighantu:
https://niimh.nic.in/ebooks/e-Nighantu/bhavaprakashanighantu/?mod=read
भावप्रकाश-पूर्वखण्ड-मिश्रप्रकरण – ४. गुडूच्यादिवर्ग

गन्धप्रसारणी

प्रसारणी राजबला भद्रपर्णी प्रतापनी |

सरणी सारणी भद्रा बला चापि कटम्भरा ||२०१||

प्रसारिणी गुरुर्वृष्या बलसन्धानकृत्सरा |

वीर्योष्णा वातहृत्तिक्ता वातरक्तकफापहा ||२०२||

HABITAT: It found in Himalayas from dehradun eastwards upto altitude of 1800 m above sea level. It is also found in bihar,oddisa bengal,assam.
BOTANICAL DESCRIPTION: Gandha Prasarini (Paederia foetida) is a climber plant which has ovate to lanceolate leaves. Gandha Prasarini leaves are around 5 cm long and 2.5 cm in width. The leaves are also membranous and have long petioles. Gandha Prasarini flowers are found in scorpiod cymes and are purple or violet in color.
AYURVEDIC CHARACTERISTICS:
| | | | | | |
| --- | --- | --- | --- | --- | --- |
| RASA | GUNA | VIRYA | VIPAKA | PRABHAVA | DOSHGHNTA |
| Tikta | Sara, Guru | Ushna | Katu | — | Vattahara |
AYURVEDIC ENERGETICS:
TASTE

PROPERTY

POTENCY

POST DIGESTIVE EFFECT

EFFECT ACTION

DOSHA ACTION

Bitter

Mobility,

Heavy for digestion

Hot

Undergoes Pungent taste post digestion

—

Pacifies vitiated vata dosha
MAJOR CHEMICAL CONSTITUENTS: Asperuloside,  Padedersoidic acid, paederoside, scandoside – iridous Glycosides; Valine, Tyrosine, Histidine, Carotene, Vit. Cursolic acid; Epifridelinol  etc.
THERAPEUTIC USES:
Almost all the massage oils used for Vata balancing contain this herb as an essential ingredient. On external use, this herb relieves pain, inflammation and stiffness.

It is useful in gout and Kapha imbalance disorders.

It is also used in treating rheumatoid arthritis.

It relieves bloating and abdominal pain.

It is usually administered after treatment of fever, to improve strength and immunity.
INDICATIONS:
Vrushya aphrodisiac, Balakrut Improves strength and immunity, Sandhanakrut useful in wound and bone healing, Useful in Vata disorders.
USEFUL PART: Root, leaf
DOSAGE: 2-4 g. of drug in powder form.
AYURVEDIC FORMULATION:
1. Dasamularista
2. Prasarini Taila
3. Mahanarayan Oil
4. Marma Gulika
5. Prasariniyadi Kashyaya