BOTANICAL NAME: Uraria picta
FAMILY: Fabaceae
CLASSICAL CLASSIFICATION:
Charaka: Angamardhaprashamana, Shothahara, Sandhaneeya
Sushruta: Vidarigandhadi gana, Haridradi gana
Bhavaprakash: Guduchyadi varga
ENGLISH NAME: Prsniparni
COMMON NAME:
Bengali: Salpani, Chhalani
Hindi: Pithavan, Dabra
Kannada: Murele Honne, Ondele honne, Prushniparni
Punjabi: Detedarnee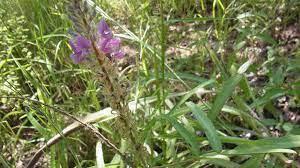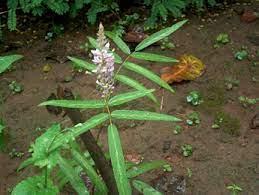 REFERENCE: BHAVAPRAKASH SAMHITA with link e Nighantu:
https://niimh.nic.in/ebooks/e-Nighantu/bhavaprakashanighantu/?mod=read
पृष्ठिपर्णी पृथक्पर्णी चित्रपर्ण्यहिपर्ण्यपि |

क्रोष्टुविन्ना सिंहपुच्छी कलशी धावनिर्गुहा ||२९||

पृष्ठिपर्णी त्रिदोषघ्नी वृष्योष्णा मधुरा सरा |

हन्ति दाहज्वरश्वासरक्तातीसारतृड्वमीः ||३०||
HABITAT: All over India
BOTANICAL DESCRIPTION:
Perennial herb . Root – Occur in pieces of varying size, thickness of 1 to 2 cm, gradually tapering, tough,woody, cylindrical; externally light yellow to buff, internally pale yellow; surface bearing fine longitudinal striations; fracture, splintery or fibrous; taste, slightly acrid.
Stem – About 8.0 to 16.0 cm long, 0.2 to 0.4 cm in diameter, in cut pieces; cylindrical, branched, pubescent, external surface light yellow to brown; transversely cut and smoothened surface shows buff-white color, mature stem longitudinally wrinkled, leaf scar present at nodes; fracture, fibrous.Leaf – Very variable, imparipinnate, upto 20 cm or more long, upto 2 cm wide; leaflets on the upper part of the stem 5 to 7, rigidly sub-coriaceous, linear-oblong, acute, blotched with white; glabrous above, finely reticulate veined and minutely pubescent beneath, base rounded; leaflets on the lower part of the stem 1 to 3, sub-orbicular or oblong.
AYURVEDIC CHARACTERISTICS:
| | | | | | |
| --- | --- | --- | --- | --- | --- |
| RASA | GUNA | VEERYA | VIPAKA | PRABHAVA | DOSHGHNTA |
| Madhura, Tikta | Laghu, Snigdha | Usna | Madhura | | Tridosahara |
AYURVEDIC ENERGETICS:
TASTE

PROPERTY

POTENCY

POST

DIGESTIVE EFFECT

EFFECT

ACTION

DOSHA

ACTION

Sweet, Bitter

Lightness, Unctuous

Hot

Sweet

Tridosha

Pacifying
MAJOR CHEMICAL CONSTITUENTS: Alkaloids, flavonoids, steroids, terpenoids, phenols. saponins tannins and glycosides. It also possesses macro elements like Sodium,Potassium etc.
THERAPEUTIC USES:
Bony fracture – 5 gm root powder and turmeric powder mixed with hot water for 3 days.
Fever – 20 gms of root powder is mixed with 400 ml of water, boiled and reduced to 60 ml and taken internally for 3 days.
Gonorrhea – Poundered leaves are applied over the affected area.
Snake poison – 20-30 ml of juice of the whole plant is taken internally for 3 days.
Ulcer – 10 gm of root powder is taken along with honey for 7 days.
Bleeding piles – 20 gms of root of Prisniparni and Bala is taken, mixed with 400 ml of water boiled and reduced to 100 ml and taken internally for 5 days
Ulcerative colitis-Gruel cooked with Prishniparni is given.
INDICATIONS:
Atisara Diarrhea, Chardi Vomiting, Daha Burning sensation, Jvara Pyrexia, Kasa Cough, Shwasa Asthma
USEFUL PART: Root ,Whole plant
DOSAGE: 20-50 gm powder for decoction.
AYURVEDIC FORMULATION:
Amritarishta
Dashmool taila
Vyaghri Taila
Sirashooladi vajra ras