BOTANICAL NAME: Buchanania colhinchinensis Spreng
FAMILY: Anacardiaceae
CLASSICAL CLASSIFICATION:
CHARAKA: Udarda Prashamna, Shramhara.
SUSHRUTA: Nayagrodhadi gana, Kakolyadi gana, Phala Varga.
BHAV PRAKASHA- Aamradi Varga.
SANSKRIT NAME: Priyala, Rajadana, Tapashesta, Sannkadru, Dhanushpata, Kharskandha, Chara, Bahulvalakala
ENGLISH NAME: Calumpang Nut Tree
COMMON NAME: Priyala, Carah, Kharaskandhah,Chaaroli
Hindi: Chiraunji, Piyaar, Chironji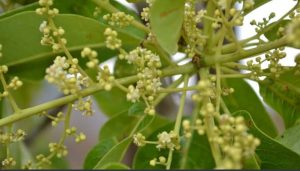 REFERENCE: BHAVAPRAKASH SAMHITA with link e Nighantu:
https://niimh.nic.in/ebooks/e-Nighantu/bhavaprakashanighantu/?mod=read
भावप्रकाश-पूर्वखण्ड-मिश्रप्रकरण – ७. आम्रादिफलवर्ग
प्रियाल
प्रियालस्तु खरस्कन्धश्चारो बहुलवल्कलः |
राजादनस्तापसेष्टः सन्नकद्रुर्धनुष्पटः ||७०||
चारः पित्तकफास्रघ्नस्तत्फलं मधुरं गुरु |
स्निग्धं सरं मरुत्पित्तदाहज्वरतृषापहम् ||७१||
प्रियालमज्जा मधुरो वृष्यः पित्तानिलापहः |
हृद्योऽतिदुर्जरः स्निग्धो विष्टम्भी चामवर्धनः ||७२||
HABITAT: Moist deciduous, dry deciduous and semi-evergreen forests Karnataka: Belgaum, Chikmagalur, Coorg, Dharwar, Hassan, Mysore, N. Kanara, Shimoga, S. Kanara Kerala: Idukki, Kollam, Malapuram, Palakkad, Pathanamthitta, Thiruvananthapuram Tamil Nadu: Coimbatore, Dharmapuri, Dindigul, Kanniyakumari, Nilgiri, Salem, Theni, Tirunelveli, Tiruvannamalai, Virudhunagar
BOTANICAL DESCRIPTION:
Buchanania cochinchinensis (syn. Buchanania lanzan) is a decidous tree which produces seeds that are edible to humans. It is native to the Indian Subcontinent, Southeast Asia, and adjacent parts of China. It is known as chironji (or charoli). These almond -flavoured seeds are used as a cooking spice primarily in India. Buchanania cochinchinensis is cultivated across India, primarily in the northwest. After the hard shell is cracked, the stubby seed within is as soft as a pine nut The charoli seed is lentil sized, is slightly flattened and has an almond-like flavour. Though they can be eaten and used raw they are often toasted or roasted before use, as this intensifies the flavour.
AYURVEDIC CHARACTERISTICS:
RASA
GUNA
VIRYA
VIPAKA
PRABHAVA
DOSHGHNTA
Madhura
Guru, sara, Snigdha
Sita
Madhura
Raktaprasadana,

Virecanopaga,

Hrdya

Pittahara, Vatahara
AYURVEDIC ENERGETICS:
| | | | | | |
| --- | --- | --- | --- | --- | --- |
| TASTE | PROPERTY | POTENCY | POST DIGESTIVE EFFECT | EFFECT ACTION | DOSHA ACTION |
| Sweet | Heavy for digestion, Unctous in nature, | Cold | Undergoes Sweet taste after digestion | Blood Tonic,Helps in inducing purgation,Cardiac Tonic | Pacifies vitiated pitta and vata dosha |
SMAJOR CHEMICAL CONSTITUENTS: Alkaloids, Tannins, Saponins, reducing Sugars, Triterpenoids and Flavonoids.
THERAPEUTIC USES:
Udvartana with its powder is helpful in many skin disorders.

Application of Chironji Oil is indicated in Palitya roga.

Local Application of chironji seeds paste is effective in vitiligo.
INDICATIONS:
Kushtha Skin disorders, Palitya Greying of hairs, Kandu Itching, Vibandha Constipation, UshnaVaat Gonorrhea, Jeerna jwara Chronic Fever, Daurbalya Debility.
USEFUL PART: Stem bark, Chironji nuts, seed kernel
DOSAGE: 5-10gm
AYURVEDIC FORMULATION:
1. Asoka Ghruta
2. Nyagrodhadi Kwatha Curna
3. Saubhagya shunthi paka
4. Rati vallabha puga paka
5. Kameshwara Modaka