BOTANICAL NAME: Callicarpa macrophylla
FAMILY: Verbenaceae
CLASSICAL CLASSIFICATION:
CHARAKA- MutraVirajaniya Gana, Purisha Samgrehaniya Gana
SUSHRUTA- Priyangvadi Gana, Anjanadi Gana
BHAVPRAKASH- Karpooradi Varga
SANSKRIT NAME:
Gandhphali, Phalini, Asthibandhana, Gochandana, Peettandula, Karamba, Vanita, Lata ,Shyama, Godantini, Kanguni. Priyavalli, Bhangura, Vrutta. Shreyasi.
ENGLISH NAME: Beutyberry
COMMON NAME : Matara, Sumali(punj.)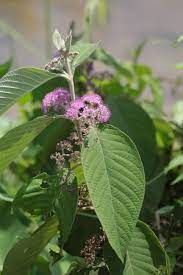 REFERENCE: BHAVAPRAKASH SAMHITA with link e Nighantu:
https://niimh.nic.in/ebooks/e-Nighantu/bhavaprakashanighantu/?mod=read
भावप्रकाश-पूर्वखण्ड-मिश्रप्रकरण – ३. कर्पूरादिवर्ग

प्रियङ्गु, गन्धप्रियङ्गु

प्रियङ्गुः फलिनी कान्ता लता च महिलाह्वया |

गुन्द्रा गन्धफला श्यामा विष्वक्सेनाङ्गनाप्रिया ||८४||

प्रियङ्गुः शीतला तिक्ता तुवरानिलपित्तहृत् |

रक्तातिसारदौर्गन्ध्यस्वेददाहज्वरापहा |

गुल्मतृड्विषमोहघ्नी तद्वद् गन्धप्रियङ्गुका ||८५||

तल्फलं मधुरं रूक्षं कषायं शीतलं गुरु |

विबन्धाध्मानबलकृत्संग्राहि कफपित्तजित् ||८६||

HABITAT:
It is found in North -eastern parts of India and at 3000 ft in Himalayan region. Found in village shrubberies and gardens through out north -east India, West Bengal.
BOTANICAL DESCRIPTION:
Branches are have hairy like cotton structure. Leaves are ovate as lanceolate, smooth from upper surface and hairy from ventral surface. Flowers are small, pink appears in florescence, some are purple or pinkish purple in color. Fruits are fleshy white divided into 4 compartments, each having single seed, ripe fruits look spongy.
AYURVEDIC CHARACTERISTICS:
| | | | | | |
| --- | --- | --- | --- | --- | --- |
| RASA | GUNA | VIRYA | VIPAKA | PRABHAVA | DOSHGHNTA |
| Tikta, Kashaya Madhura | Laghu, Ruksha | Sheeta | Katu | — | Tridosha shamaka |
AYURVEDIC ENERGETICS:
TASTE

PROPERTY

POTENCY

POST DIGESTIVE EFFECT

EFFECT ACTION

DOSHA ACTION

Bitter, Astringent

& Sweet

Light for digestion, Dry in nature

Sita

Undergoes Pungent taste after digestion

—

Pacifies all the vitiated doshas
MAJOR CHEMICAL CONSTITUENTS: Calliterpenone, Crategolic acid.
THERAPEUTIC USES:
Priyangu+Musta+Triphala are made into a paste and applied over the gums.
Vomiting is induced with leaf decoction of priyangu in Parinaam shoola.

Given in jwara in form of hot infusion.

Dusting of powder of Priyangu with Yashtimadu to arrest bleeding from wound.

Churna is given in RaktPitta disorders.

Oil processed with leaf & root of Priyangu is applied over joint to heal pain & swelling.
INDICATIONS:
RaktPitta Bleeding Disorders, Parinaam Shool Duodenal Ulcers, Shrioroga Headache, Sheetad Gum Disorders, Jwar Pyrexia.
USEFUL PART: Flower
DOSAGE: Churna 3-6gm
AYURVEDIC FORMULATION:
1. Dashmoolarishta
2. Priyangwadi Taila
3. Devdarvarishta
4. Ushirasava
5. Pippalyasav
6. Amroid Ointment