BOTANICAL NAME: Boerhaavia diffusa
FAMILY: Nyctaginaceae
ENGLISH NAME: Hog Weed
CLASSICAL CLASSIFICATION:
Charaka: Vaya Sthapana, Kasahara, Anuvasanopaga, SvedopagaVidarigandhadi Gana
Sushruta: Vidarigandhadi Gana
Bhavaprakash: Guduchyadi varga
COMMON NAME:
Hindi name- Gadapurna, Lalpunarnava
Kannada name- Sanadika, Komme, Kommeberu
Gujarati name- Dholisaturdi, Motosatodo
Punjabi name- Itsit(lal), Khattan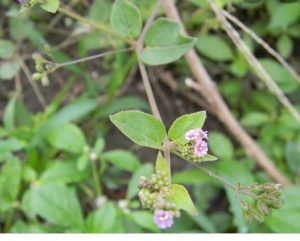 REFERENCE: BHAVAPRAKASH SAMHITA with link e Nighantu:
https://niimh.nic.in/ebooks/e-Nighantu/bhavaprakashanighantu/?mod=read
रक्तपुनर्नवा-
पुनर्नवापरा रक्ता रक्तपुष्पा शिलाटिका |
शोथघ्नः क्षुद्रवर्षाभूर्वृषकेतुः कपिल्लकः ||१९९||
पुनर्नवारुणा तिक्ता कटुपाका हिमा लघुः |
वातला ग्राहिणी श्लेष्मपित्तरक्तविनाशिनी ||२००||
HABITAT: All over India.
BOTANICAL DESCRIPTION:
Annual herb,Stem- greenish purple, stiff, slender, cylindrical, swollen at nodes, minutely pubescent or nearly glabrous.Root is well developed, fairy long, somewhat tortuous, cylindrical, 0.2-1.5 cm in diameter; yellowish brown to brown coloured, surface soft to touch. It Tastes slightly bitter.Leaves are opposite in unequal pairs, larger ones 25-37 mm long and smaller ones 12-18 mm,long ovate-oblong, apex rounded or slightly pointed.Flowers are very small, pink color.Fruits are one seeded nut
AYURVEDIC PROPERTIES:
| | | | | | |
| --- | --- | --- | --- | --- | --- |
| RASA | GUNA | VEERYA | VIPAKA | PRABHAVA | DOSHGHNTA |
| Madhura, Tikta, Kasaya | Ruksa | Usna | Madhura | | Vata Kapha Har |
AYURVEDIC ENERGETICS:
TASTE

PROPERTY

POTENCY

POST

DIGESTIVE EFFECT

EFFECT

ACTION

DOSHA

ACTION

Bitter, Astringent, Sweet

Dryness

Hot

Pungent

Kapha vata

Pacifying
MAJOR CHEMICAL CONSTITUENTS: Hentriacontane, B-sitosterol, Oxalicacid, D- glucose, Punarnavoside, Punarnavine-1, Punarnavine-2 Boeravinones A,B,C etc, T. Portulacastrum- Trianthemine and ecdysterone. It also contains two rotenoids- Boeravinones G and H, b-Sitosterol, a-2-sitosterol, palmitic acid, ester of b-sitosterol, tetracosanoic, hexacosanoic, stearic, arachidic acid, ursolic acid, Hentriacontane, b-Ecdysone, triacontanol
THERAPEUTIC USES:
Bronchial asthma: Dried leaves are used in dhoomapana (smoking) in treatment of bronchial asthma.
Inflammation – Leaves paste is applied on the affected area.
Ascites & generalized oedema – Pulp of Plant with Ginger
Hepatitis – Punarnava taila is used
Jaundice – Powder of the leaves and roots .
INDICATIONS:
Kasa Cough , Hridroga Cardiac disorders, Urakshata Chest injury , Arsha Haemorrhoids , Vranahara wound healing ,Garvisha Chronic toxic conditions ,Udara roga Ascites
USEFUL PART: Roots, Stem, Leaves
DOSAGE: 20-30g of the drug for decoction
AYURVEDIC FORMULATION:
Punarnavadi mandura
Sukumara ghrita
Punarnavasava
Punarnavastaka kwatha.