BOTANICAL NAME: Inula racemosa
FAMILY: Asteraceae
CLASSICAL CLASSIFICATION:
Charaka: Shvasahara, Hikkanigrahana
Sushruta: Phala Varga
Bhavaprakash: Haritakyadi varga
ENGLISH NAME: Orris Root
COMMON NAME:
Hindi: Pohakar Mul
Punjabi: Pokhar Mool
Bengali: Pushkara, Pushkaramula
Kannada: Pushkara Moola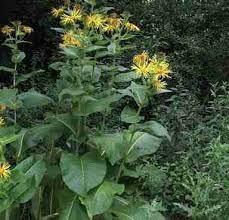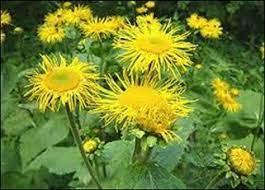 REFERENCE: BHAVAPRAKASH SAMHITA with link e Nighantu:
https://niimh.nic.in/ebooks/e-Nighantu/bhavaprakashanighantu/?mod=read
उक्तं पुष्करमूलं तु पौष्करं पुष्करञ्च तत् |

पद्मपत्रञ्च काश्मीरं कुष्ठभेदमिमं जगुः ||१५३||

पौष्करं कटुकं तिक्तमुक्तं वातकफज्वरान् |

हन्ति शोथारुचिश्चासान्विशेषात्पार्श्वशूलनुत् ||१५४||
HABITAT: mostly found in Western Himalayas .
BOTANICAL DESCRIPTION: Pushkarmool is a stout shrub with large leaves arranged in racemose form. It has grooved stems and all vegetative parts are scabid tomentose. The upper leaves are lanceolate, stem clasping and lower leaves are narrowed to winged leaf stack. An abaxial laminal face is densely tomentose. Radical leaves are elliptic lanceolate, 40 x 20 cm broad with long petioles Cauline leaves are smaller, oblong, semi amplexicaule. The flower blooms in mid to late summer. Flowers are large and shady yellow daisies usually borne on apical spike-like clusters. Fruits are slender achenes, 0.4 cm long with 0.75 cm long pappus hairs. Roots are irregularly fusiform and about 20-25 x 5 cm. Roots are yellowish inside with dull brownish skin. It possess sweet, camphoraceous odor with bitter taste.
AYURVEDIC CHARACTERISTICS:
| | | | | | |
| --- | --- | --- | --- | --- | --- |
| RASA | GUNA | VEERYA | VIPAKA | PRABHAVA | DOSHGHNTA |
| Katu, Tikta | Laghu, Teekshna | Ushna | Katu | | Kaphavata hara |
AYURVEDIC ENERGETICS:
TASTE

PROPERTY

POTENCY

POST

DIGESTIVE EFFECT

EFFECT

ACTION

DOSHA

ACTION

Bitter, Pungent

Lightness, Strong

Hot

Pungent

Kapha vata

Pacifying
MAJOR CHEMICAL CONSTITUENTS: Alantolactone, Isoalantolactone, Inunolide- Germacranolide, Dihydroisoalantotolactone, Sitosterol, D- Mannitol, Dihydroinunolide, neo-Alantolactone, inunolise, Sesquiterpene lactone- inunol, Alantodiene etc.
THERAPEUTIC USES:
Cough and Asthma – Take 1 to 3 grams of root powder , Take root powder with Dashmoola decoction.
Dental problems –Apply the root powder in teeth.
Edema – Take the root powder with lukewarm water.
Heart disease and Chest pain – Take Pushkarmula powder with honey, Apply the root paste on chest for chest pain.
Sprain, boils, bruises, abscess – Apply the root paste externally on the affected area.
INDICATIONS:
Asthma Shwasa,Tuberculosis Kshaya , Inflammatory conditions Shothal, Rectal fistula Bhagandhara, Cough Kasa
USEFUL PART: Root
DOSAGE: 1-3gm of the drug in powder form.
AYURVEDIC FORMULATIONS:
1. Puskarmulasava
2. Puskaradi Churn
3. Puskaradi kalka
4. Puskaradi Kasaya
5. Brhat Yograj guggulu
6. Haritakyadi churna
7. Kankayan gutika
8. Kumaryasava
9. Dashmularishta
10. Lodhrasava