BOTANICAL NAME: Putranjiva roxburghii
FAMILY: Euphorbiaceae
CLASSICAL CLASSIFICATION:
BHAVPRAKASH- Vatadi Varga
SANSKRIT NAME:
Garbhakara, Garbhada, Putranjivaka, Sutajeevaka, YashtiPushpa, ArthaSadhaka,
Kuta, Pavitra, Mantrartha Siddhikrut.
ENGLISH NAME: Child life tree, Indian amulet plant
COMMON NAME:
Hindi name – Jiyapeeta, Putranjeev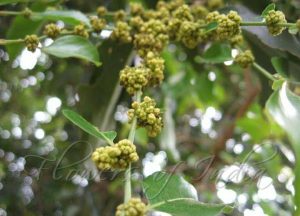 REFERENCE: BHAVAPRAKASH SAMHITA with link e Nighantu:
https://niimh.nic.in/ebooks/e-Nighantu/bhavaprakashanighantu/?mod=read
पुत्रजीव (वटादि वर्ग)

पुत्रजीवो गर्भकरो यष्टीपुष्पोऽर्थसाधकः |

पुत्रजीवो गुरुर्वृष्यो गर्भदः श्लेष्मवातहृत् |

सृष्टमूत्रमलो रूक्षो हिमः स्वादुः पटुः कटुः ||३३||
HABITAT: Found in India at 3000 feet above the sea level.
BOTANICAL DESCRIPTION: Trees, to 20 m high, bark dark grey, whitish when young with horizontal lenticels; branches generally pendent; branchlets terete, brown or blackish, slender, pubescent. Leaves simple, alternate; stipule small, lateral, caducous; petiole 5-7 mm long, slender, pubescent; lamina 3.5-12 x 1.5-4.5 cm, elliptic-oblong, base oblique, apex shortly acuminate, acute or obtuse with retuse tip; margin serrate or serrulate, glabrous, dark green, shining, coriaceous; lateral nerves 8-12 pairs, pinnate, slender, ascending, prominent, intercostae reticulate, slender, prominent. Flowers unisexual, small, yellow; male flowers: sessile, in axillary spikes, 2-2.5 mm across; pedicels 1.5-2 mm long, glabrous; tepals 3-5, oblong, puberulous without, ciliate, obtuse, imbricate; stamens 2-4, 1.5-2 mm long; filaments thick, more or less connate towards base; anthers ovate, hairy; female flowers: solitary or in 2 or 3, axillary; pedicel upto 15 mm long, puberulous; bracts lanceolate; tepals 5-6, 2-2.5 × 1-1.5 mm, unequal, oblong, puberulous without, ciliate, acute; ovary superior, 3 x 2.5 mm, globose, tomentose, 3-celled, ovules 2 in each cell; style 3, spreading, tomentose, often connate below into dilated into broad fleshy stigma; stigma crescent-shaped, glandular. Fruit a drupe, 1.3-2 x 1.5 cm, ovoid-ellipsoid, white tomentose; seed one, crustaceous; pedicels 6-25 mm long.
AYURVEDIC CHARACTERISTICS:
RASA
GUNA
VIRYA
VIPAKA
PRABHAVA
DOSHGHNTA
Madhura, katu
Guru,

Pichhil

Sita
Madhura
Garbhakar
Vátapitta shámak
AYURVEDIC ENERGETICS:
| | | | | | |
| --- | --- | --- | --- | --- | --- |
| TASTE | PROPERTY | POTENCY | POST DIGESTIVE EFFECT | EFFECT ACTION | DOSHA ACTION |
| Sweet, Pungent | Heavy for digestion,  Sliminess | Cold | Undergoes Sweet taste after digestion | Progenative | Pacifies vitiated Vata and Pitta dosha |
MAJOR CHEMICAL CONSTITUENTS: Mannitol, saponins, glucoside, alkaloids
THERAPEUTIC USES:
Powder of seeds is given in 01-03 gms. With Milk in male to inprove the sperm count & in females to maintain the feotus.

Paste of Leaf is applied over the affected area with Burning Sensation.

Fresh Juice of Putranjiva is given in 10-15 ml dosage in Elephentiasis & Paste of that leaf is applied locally.

Cold Infusion of its leaf is given to patients suffering from Dysuria.

Seeds of Putranjiva is applied as collyrium to treat eye disorders.
INDICATIONS:
Garbhasthápan Progenative, shalipad Elephantiasis, mutrakarichh Dysuria, shoth har Anti-Inflammatory, trishná evum dáhshámak Polydypsia & Burning Sensation.
USEFUL PART: seeds, leaves
DOSAGE:
Powder – 3 to 6 gm
Leaf juice – 10 – 20 ml
AYURVEDIC FORMULATION:
Putranjaeeva Beeja Churna