BOTANICAL NAME: Pterocarpus santalinus
FAMILY: Fabaceae
CLASSICAL CLASSIFICATION
Sushrut– Patoladi, Sarivadi, Pringvadivarg
Bhav Prakash– Kapooradivarg
ENGLISH NAME: Red Sandal wood, red sanders
COMMON NAME:
Gujarati name– Ratanjali, Lal Chandan
Kannada name– Rakta Chandana, Honne
Tamil name– Shivappu, Atti, Chensandanam, Semmaram, SivaffuChandanam
Bengali name– Rakta Chandan
Marathi name– TambadaChandan, Raktachandan
PLANT IMAGE with Unique Identification Feature: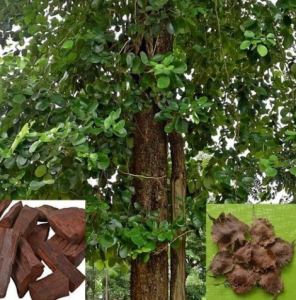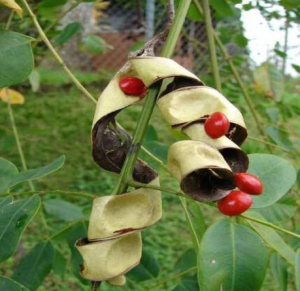 REFERENCE: BHAVAPRAKASH SAMHITA with link e Nighantu:
https://niimh.nic.in/ebooks/e-Nighantu/bhavaprakashanighantu/?mod=read
रक्तचन्दनमाख्यातं रक्ताङ्गं क्षुद्रचन्दनम् |
तिलपर्णं रक्तसारं तत्प्रवालफलं स्मृतम् ||१५||
रक्तं शीतं गुरु स्वादुच्छर्दितृष्णाऽस्रपित्तहृत् |
तिक्तं नेत्रहितं वृष्यं ज्वरव्रणविषापहम् ||१६||
HABITAT: Found in Cuddaph district of Andhra Pradesh, neighbouring areas of Tamil Nadu and Karnataka
BOTANICAL DESCRIPTION:
Chandan plant is an evergreen plant that can grow up to 20 m attain girth up to 2.4 m wide with branches which are drooping and slender. The bark of the tree can be of dark brown color, red color, dark grey or of black color in the young plants. In the older plants, thesebarks are with deep cracks and of red color from inside. The sapwood of the stems is white in color and odorless. On the other hand, heartwood is of yellow brown color with strong fragrance.
AYURVEDIC CHARACTERISTICS
RASA

GUNA

VEERYA

VIPAKA

PRABHAVA

DOSHAGHNTA

Tikta

Madhur

Guru

Ruksha

Sheeta
Katu
Vrushya
Kapha-pittahar
AYURVEDIC ENERGETICS-
TASTE
PROPERTY
POTENCY
POST DIGESTIVE EFFECT
EFFECT ACTION
DOSHA ACTION

Bitter

Sweet

Heavyness

Dryness

Cold

Pungent

Aphrodisiac

Pacifying kapha ,pitta
MAJOR CHEMICAL CONSTITUENTS: Pterocarpol, SantalinA, Bpterocarptriol, Pterocarpodiolone, Lupenediol, Pterostilbene, Homopterocarpin
THERAPEUTIC USES:
Pyrexia – Its paste made with water can be applied on forehead and body to reduce the temperature. Its decoction (herbal tea) is also beneficial in Pittatisara, Raktapitta, Shotha
Acne– Oral intake of half a gram once or twice a day with honey or water for 15 days.
INDICATIONS
Daha burning sensation, Jwara fever, Chardi vomiting, Kasa cough.
USEFUL PART: heart wood
DOSAGE: Powder 3-6 g
AYURVEDIC FORMULATION
1. Asanadi Kashayam
2. Guduchyadi Kashayam
3. Tarunarka Rasa
4. ChandanadiLauh