BOTANICAL NAME: Tecomella undulata
FAMILY: Bignoniaceae
CLASSICAL CATEGORIZATION-:
BHAVPRAKASH– Vatadi Varga.
SANSKRIT NAME: Rohitaka, Dadimachchada, Plihaghna, Rohi, Dadimapushpaka, Roheda, Ragatrora.
ENGLISH NAME: Rohida tree
COMMON NAME:
Hindi name– Rugtrora/ Rudanti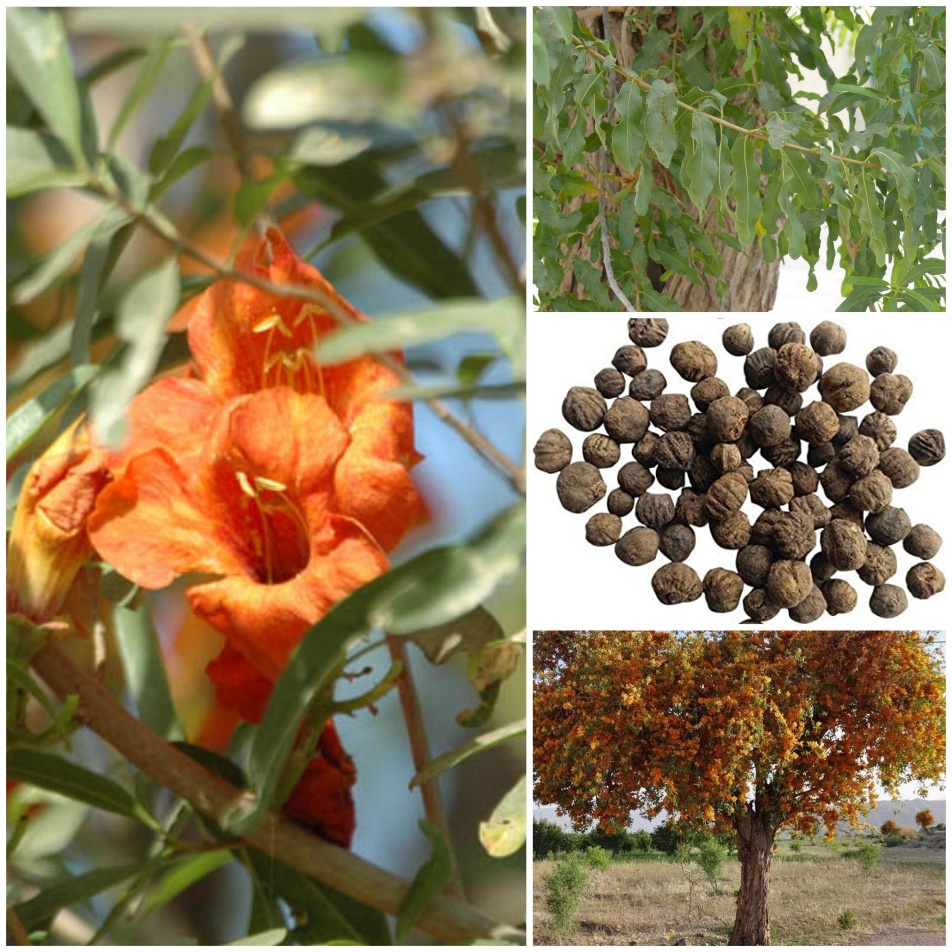 REFERENCE: BHAVAPRAKASH SAMHITA with link e Nighantu:
https://niimh.nic.in/ebooks/e-Nighantu/bhavaprakashanighantu/?mod=read
रोहीतको रोहितका रोही दाडिमपुष्पकः |

रोहीतकः प्लीहघाती रुच्यो रक्तप्रसादनः ||३०||

HABITAT: It is very hardy and resistant to droughts plant occur wild or found in regions of Rajasthan, Punjab, Haryana, Kathiawar and Kutch in Gujrat.
BOTANICAL DESCRIPTION: It is a deciduous ornamental shrub or small tree found in North west and western India. Leaves are oblong or linear. Flowers are pale yellow to deep orange, arranged in corymbose raceme on short lateral branch. Fruits are capsule, slightly curved. Seeds are winged.
AYURVEDIC CHARACTERISTICS:
| | | | | | |
| --- | --- | --- | --- | --- | --- |
| RASA | GUNA | VIRYA | VIPAKA | PRABHAVA | DOSHGHNTA |
| Katu, tikta, kasaya | Laghu, ruksa | Sita | Katu | – | Kaphapittasamak |
AYURVEDIC ENERGETICS:
TASTE

PROPERTY

POTENCY

POST DIGESTIVE EFFECT

EFFECT ACTION

DOSHA ACTION

Pungent, Bitter,

Astringent

Light for digestion, Dry in nature

Cold

Undergoes Pungent taste after digestion

–

Pacifies vitiated Kapha and Pitta dosha
MAJOR CHEMICAL CONSTITUENTS: Bark contains tecomin and also contains tanins.
THERAPEUTIC USES:
Its juice is used in Netra vikaras.

Splenomegaly- Its juice is given per orally.

Its local application in form of paste is indicated in Vranas.
INDICATIONS:
Netravikara Eyedisorders, Pleeha vrudhi Splenomegaly, Yakruta Vrudhi Hepatomegaly, Shveta pradara Leucorrhea, Kapha pittaja prameha Urinary Disorders, Yoni srava Vaginal discharges, Medoroga Lipid Disorders, Arsha Piles, Kaamla Jaundice.
USEFUL PART: Bark, Seed
DOSAGE:
Powder- 1-3 gm
Decoction- 50-100 ml
AYURVEDIC FORMULATION:
1. Rohitakarisht
2. Maharohitaka ghrita
3. Rohitakadya curna
4. Pleehashardula rasa
5. Rohitakadi Vati
6. Rohitaka Lauha
7. Mahamrityunjya Loha