BOTANICAL NAME: Barleria prionitis
FAMILY: Acanthaceae
CLASSICAL CLASSIFICATION:
BHAVPRAKASH- Pushpa Varga
SANSKRIT NAME:
Amlanta, Dasi, Bhana, Kurantaka, Saireyaka, Sahchara, MruduKanata, Varnadya, Kinkirantaka, Jhinti.
COMMON NAME:
Hindi: Sahacara
Punjabi: Sahacar
English: Yellow Nail Dye Plant, Hop Headed Barleria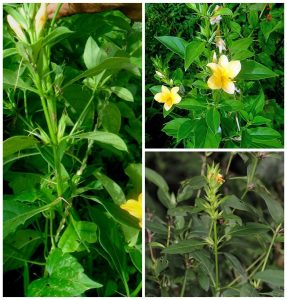 REFERENCE: BHAVAPRAKASH SAMHITA with link e Nighantu:
https://niimh.nic.in/ebooks/e-Nighantu/bhavaprakashanighantu/?mod=read
सैरेयकः श्वेतपुष्पः सैरेयः कटसारिका |

सहाचरः सहचरः स च भिन्द्यपि कथ्यते ||४०||

कुरण्टकोऽत्र पीते स्याद्रक्ते कुरबकः स्मृतः |

नीले बाणा द्वयोरुक्तो दासी आर्तगलश्च सः ||४१||

सैरेयः कुष्ठवातास्रकफकण्डूविषापहः |

तिक्तोष्णो मधुरोऽनम्लः सुस्निग्धः केशरञ्जनः ||४२|
HABITAT: It is grown in as low hedge plant and is found throughout the hotter parts of India, Burma and Malaya and extends westwards to tropical or south Africa.
BOTANICAL DESCRIPTION: It is a much branched, prickly shrub upto 3m in height. Leaves- entire, elliptic, acuminate, glabrous. Flowers – orange yellow or cream in axillary foliaceous bracts. Capsule- ovoid,25mm. Seed – 2 in number, compressed and ovate. Flowering time is October- March; fruiting time is March-June.
AYURVEDIC CHARACTERISTICS:
| | | | | | |
| --- | --- | --- | --- | --- | --- |
| RASA | GUNA | VIRYA | VIPAKA | PRABHAVA | DOSHGHNTA |
| Madhur, tikta | Laghu | Usna | Katu | Kushtghan | Kapha-vata shamak |
AYURVEDIC ENERGETICS:
| | | | | | |
| --- | --- | --- | --- | --- | --- |
| TASTE | PROPERTY | POTENCY | POST DIGESTIVE EFFECT | EFFECT ACTION | DOSHA ACTION |
| Sweet, Bitter | Light for digestion | Hot | Undergoes Pungent taste after digestion | Anti-Leprotic, Useful in Skin Disorders | Pacifies vitiated kapha and vata dosha |
MAJOR CHEMICAL CONSTITUENTS: The important phytochemical compounds isolated from Barleria are iridoids, phenolic acids, phenylethanoid glycosides lignans, flavonoids, and phytosterols It is rich in Potassium
THERAPEUTIC USES:
The paste of Leaf along with Curd is applied over the scalp to strengthen the hair & improve their growth.

The Paste of leaf is applied over the swelled area.

The Paste of Leaf is applied locally over the skin in case of disorders such as Scabies & Ringworm.

The decoction of leaf is given in dosage of 50 ml in case of Dysuria.

The Paste of root is applied locally in case of Goitre.

Cold infusion of Saireyaka is given in dosage of 50 ml as Blood Purifier.
Sesame Oil processed with Saireyaka leaves is used to apply locally in case of Alopecia.
INDICATIONS:
Vatavyadhi NeuroMuscular Disorders, Raktvikar Blood Disorders, Nadidourbalaya Debility, Kushta Skin Disorders, Kandu Itching.
USEFUL PART: Whole plant (especially leaves)
DOSAGE:
Juice: 10-20 ml
Decoction: 50-100ml
AYURVEDIC FORMULATION:
1. Sahacara tailam
2. Kusadya ghruta
3. Rasnadya Ghruta
4. Rasnadya Kashyaya.
5. Saptasaram Kashyay