BOTANICAL NAME: Alstonia scholaris
FAMILY: Apocynaceae
CLASSICAL CLASSIFICATION:
CHARAKA- Kusthagna Udarda Prashamna, Kashyay skandha, Tikta skndha.
SUSHRUTA- Aragwadhadi Gana,Lakshaadi Gana.
BHAVPRAKASH NIGHANTU- Vatadi varga
SANSKRIT NAME– Vishala, Vishalatvak, Vismacchada, Sharada, Salmalipatraka, Saptacchada, Suparnaka.
ENGLISH NAME: Dita
COMMON NAME:
Hindi: Chhativan, satawana
Punjabi: Sathi, satanna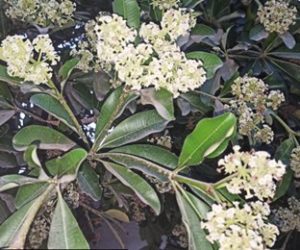 REFERENCE: BHAVAPRAKASH SAMHITA with link e Nighantu:
https://niimh.nic.in/ebooks/e-Nighantu/bhavaprakashanighantu/?mod=read
सप्तपर्णो विशालत्वक् शारदो विषमच्छदः |

सप्तपर्णो व्रणश्लेष्मवातकुष्ठास्रजन्तुजित् |

दीपनः श्वासगुल्मघ्नः स्निग्धोष्णस्तुवरः सरः ||६१||
HABITAT: Throughout moist regions of India, especially in West Bengal and west-coast forests of Southern India.
BOTANICAL DESCRIPTION:
Alstonia scholaris is a globous tree and grows up to 40 m (130 ft) tall. Its mature bark is greyish and its young branches are copiously marked with lenticles. One unique feature of this tree is that in some places, such as New Guinea, the trunk is three-sided (i.e. it is triangular in cross-section). The upper side of the leaves are glossy, while the underside is greyish. Leaves occur in whorls of three to ten; petioles are 1–3 cm (0.39–1.18 in); the leathery leaves are narrowly obovate to very narrowly spathulate base cuneate, apex usually rounded and up to nine inches (23 centimetres) long by up to three inches (8 cm) in width. Lateral veins occur in 25 to 50 pairs, at 80–90° to midvein. Cymes are dense and pubescent; peduncle is 4–7 cm (1.6–2.8 in) long. Pedicles are usually as long as or shorter than calyx. The corolla is white and tube-like, 6–10 mm (0.24–0.39 in); lobes are broadly ovate or broadly obovate, 2–4.5 mm (0.079–0.177 in), overlapping to the left. The ovaries are distinct and pubescent. The follicles are distinct and linear.
AYURVEDIC CHARACTERISTICS:
RASA
GUNA
VIRYA
VIPAKA
PRABHAVA
DOSHGHNTA
Tikta

Kasaya

Sara

Snigdha

Usna
Katu
Anuloman,

Dipana

Tridosaghan
AYURVEDIC ENERGETICS:
TASTE

PROPERTY

POTENCY

POST DIGESTIVE EFFECT

EFFECT ACTION

DOSHA ACTION

Bitter,

Astringent

Mobile, Unuctous

Hot

Undergoes Pungent taste after digestion

Intestinal Motility, Carminative

Pacifies vitiated tridoshas
MAJOR CHEMICAL CONSTITUENTS: Alkaloids (echitamine, ditamine and echitamidine)
THERAPEUTICS:
It is one of the drug whose decoction is given after delivery to boost immunity.

Act as a Good Cardiac Tonic.

Its decoction is helpful in Abdominal colicy pain.

Helpful in COPD

Given in Vishmajwara & Diabetes.
INDICATIONS:
Shoola Pain, Gulma Abdominal Lump, Jvara Fever, Krmiroga Helmenthiasis, Kustha Skin Disorders, Sandrameha Urinary Disorder.
USEFUL PART: Bark
DOSAGE: 20-30 g of the drug for decoction
AYURVEDIC FORMULATION:
1. Amrtarisa
2. Aragvadhadi kvatha curna
3. Vajraka Taila
4. Mahatiktam Kashyam
5. MahaPanchgavya Ghruta