BOTANICAL NAME: Pinus roxburghii
FAMILY: Pinaceae
CLASSICAL CATEGORIZATION:
CHARAKA- Purisha virajniya mahakashaya
SUSHRUTA- Eladi Gana
BHAVPRAKASH- Karpooradi Varga
SANSKRIT NAME:
Sarala, Surabhidaruka, Shrivasa, Deeptaru, Shriveshtaka, Pitavriksha, Snigdhdaru, Siddadaru, Uthitta, Shrayahvapitdaru,Nameru.
COMMON NAME:
English: Oleo-resine of Pine Hindi: Cheed-Ka-Gond, Gandhabirojaa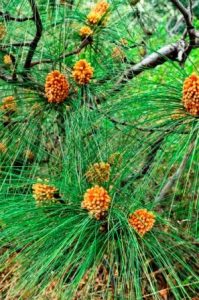 REFERENCE: BHAVAPRAKASH SAMHITA with link e Nighantu:
https://niimh.nic.in/ebooks/e-Nighantu/bhavaprakashanighantu/?mod=read
सरलः पीतवृक्षः स्यात्तथा सुरभिदारुकः |

सरलो मधुरस्तिक्तो कटुपाकरसो लघुः |

स्निग्धोष्णः कर्णकण्ठाक्षिरोगरक्षोहरः स्मृतः |

कफानिलस्वेददाहकासमूर्च्छाव्रणापहः ||२५
HABITAT: The native range extends from Tibet and Afghanistan through Pakistan, across northern India in Jammu and Kashmir, Himachal Pradesh, Uttarakhand, Sikkim, Arunachal Pradesh), Nepal and Bhutan, to Myanmar.
BOTANICAL DESCRIPTION:
Pinus roxburghii is a large tree reaching 30–50 metres (98–164 feet) with a trunk diameter of up to 2 m (6+1⁄2 ft), exceptionally 3 m (10 ft). The bark is red-brown, thick and deeply fissured at the base of the trunk, thinner and flaky in the upper crown. The leaves are needle-like, in fascicles of three, very slender, 20–35 centimetres (8–14 inches) long, and distinctly yellowish green. The cones are ovoid conic, 12–24 cm (4+1⁄2–9+1⁄2 in) long and 5–8 cm (2–3 in) broad at the base when closed, green at first, ripening glossy chestnut-brown when 24 months old. They open slowly over the next year or so, or after being heated by a forest fire, to release the seeds, opening to 9–18 cm (3+1⁄2–7 in) broad. The seeds are 8–9 millimetres (5⁄16–3⁄8 in) long, with a 40 mm (1+1⁄2 in) wing, and are wind dispersed Blackish brown in colour, semi solid, mostly associated with debris from needles, wood chips and bark of the source tree; odour, terebinthinate.
AYURVEDIC CHARACTERISTICS:
RASA
GUNA
VIRYA
VIPAKA
PRABHAVA
DOSHGHNTA
Katu, Tikta

Kasaya

Laghu, snigdha,

Tiksna

Usna
Katu
Dipana
Kaphahara,

Vatahara
AYURVEDIC ENERGETICS:
TASTE

PROPERTY

POTENCY

POST DIGESTIVE EFFECT

EFFECT ACTION

DOSHA ACTION

Pungent, Bitter,

Astringent

Light for digestion, Unuctuous in nature, Strong

Hot

Undergoes Pungent taste after digestion

Digestifier Action

Pacifies vitiated kapha and vata dosha
MAJOR CHEMICAL CONSTITUENTS: l-α-pinene, l-β-pinene, car-3-ene, longifolene and other mono &sesquiterpenes.
THERAPEUTIC USES:
Local application of Eucalyptus oil mixed with camphor is proven to be effective in Osteoarthritis, Edema, Pleurisy & Costochondritis.

Per Abdomen Hot Fomentation with lukewarm water and euclyaptus oil is also effective in Tympanites and Flatulence.

Helpful in Helminthiasis.

Vaginal Douche with this oil is effective in Leucorrhea.

Agnimandya, Adhmana, Grahabadha, krmiroga, kantharoga,
Kandu, kostha, kustha
INDICATIONS:
Sandhi shotha Joint inflammation, Parshva shola Pleurisy, Swarbheda Hoarsness of voice, Yakshma Tuberculosis, Kushtha Skin Disoreders, Kantha roga Throat infections, Shiroroga, Dushta Vrana Infected Wounds, Urustambha Muscular Dystrophy.
USEFUL PART: Stem powder, Oil, Bark, resin
DOSAGE: 1-3g.
AYURVEDIC FORMULATION:
1. Amrtaprasa curna
2. Kstadi Tail
3. Karpooradya arka
4. Rajnayadi Churna
5. Bruhatdhatri Ghruta
6. Bruhat Shatavari Modak
7. Panch guna taila
8. Saraladya pradeha
9. Shatavari Taila
10. Maha Sugandhadi taiala
11. Shrivasadi dhoopa
12. Rudra Taila
13. Mahat Chandanadi taila
14. Aguvadya taila
15. Sudarshana churna
16. Amruta prasha Ghruta
17. Saraladya Pradeha