BOTANICAL NAME: Hemidesmus indicus
FAMILY: Apocynaceae
CLASSICAL CATEGORIZATION:
CHARAKA- Jwarhara, Dahaprashmana, Pureeshasamgrehniya, Stanya Mahakashyay, Madhur Skandha
SUSHRUTA- Sarivadi, Vidarigandhadi, Valli Panchmoola Gana
BHAVPRAKASH NIGHANTU- Guduchyadi varga
SANSKRIT NAME: Ananta, Anantmoola, Asphota, Utpala Sariva, Krosdari, Gopi, Gopvalli, Gopkanya, Gopangai, Candana
COMMON NAME:
Hindi: Anantamul
Punjabi: Anantmool, Ushbah
English: Indian Sarsaparilla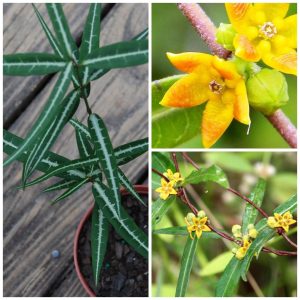 REFERENCE: BHAVAPRAKASH SAMHITA with link e Nighantu:
https://niimh.nic.in/ebooks/e-Nighantu/bhavaprakashanighantu/?mod=read
इन्द्रजम्बूकवत्पत्रा सुगन्धा कलघण्टिका |

कृष्णा तु शारिवा श्यामा गोपी गोपवधूश्च सा ||२०३||

श्वेतसारिवा-

धवला शारिवा गोपी गोपा कन्या कृशोदरी |

स्फोटा श्यामा गोपवल्ली लतास्फोता च चन्दना ||२०४||

सारिवायुगलं स्वादु स्निग्धं शुक्रकरं गुरु |

अग्निमान्द्यारुचिश्वासकासामविषनाशनम् |

दोषत्रयास्रप्रदरज्वरातीसारनाशनम् ||२०५||
HABITAT: Plant occur throughout the India. It is found in Andhra Pradesh, Assam, Bihar, Gujrat, Jammu Kashmir.
BOTANICAL DESCRIPTION: Slender twining and prostrate perennial. Leaves are oblong, elliptic or linear lanceolate. Flowers are small greenish purple in cymes. Follicles are glabrous often purple slender. Seeds are obovate- oblong, flattened and black. It flowers in cold months or post – autumn season and subsequently fruiting begins on plants.
AYURVEDIC CHARACTERISTICS:
| | | | | | |
| --- | --- | --- | --- | --- | --- |
| RASA | GUNA | VEERYA | VIPAKA | PRABHAVA | DOSHGHNTA |
| Madhur, tikta | Guru, snigdha | Sita | Madhur | Raktaprasadan | Tridosha shamak |
AYURVEDIC ENERGETICS:
TASTE

PROPERTY

POTENCY

POST DIGESTIVE EFFECT

EFFECT ACTION

DOSHA ACTION

Sweet, Bitter

Heavy for digestion, Unuctous in nature

Cold

Undergoes Sweet taste after digestion

Blood Purifier/

Rejuvenator

Pacifies vitiated Tridoshas.
MAJOR CHEMICAL CONSTITUENTS: Essential oil, lupeol, tetracyclic, saponin, glycoside, ketone
THERAPEUTIC USES:
It improves sperm quality & quantity.

Useful in Respiratory disorders.

Useful in Aam Pachana.

Given in menorrhagia.
INDICATIONS:
Vatarakta Gout, Jirna-Amavata Chronic Rheumatism, Daha-shoth Tenderness, Pravahika Dysentry, Dourbalya Debility.
USEFUL PART: Root
DOSAGE:
Infusion: 50-100 ml
Paste: 5-10 gm
AYURVEDIC FORMULATION:
1. Sarivadyasav
2. Sarivadi kvath
3. Sarivadi vati
4. Mathala Rasayanam
5. Mahamanjisthadya Kashyam
6. MahaVishGarbha Taila
7. Manasamrita Vatakam