BOTANICAL NAME: Vateria indica
FAMILY: Dipterocarpaceae
CLASSICAL CLASSIFICATION:
BHAVPRAKASH NIGHANTU- Vatadi varga
SANSKRIT NAME: Ajakarna, Bastakarna, Latavruksha, Sarjaka, Saal, Maricapatraka, Kashaya, Chirapatraka, Kalakuta, Rajodbhava, Vallivruksha, Gandhavruksha.
COMMON NAME:
Hindi: Sandras, Safed Damar
English: White Damar tree, India Cop tree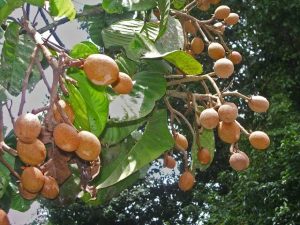 REFERENCE: BHAVAPRAKASH SAMHITA with link e Nighantu:
https://niimh.nic.in/ebooks/e-Nighantu/bhavaprakashanighantu/?mod=read
शालस्तु सर्जकार्श्याश्वकर्णकाः शस्यशम्बरः |

अश्वकर्णः कषायः स्याद् व्रणस्वेदकफक्रिमीन् |

ब्रध्नविद्रधिबाधिर्ययोनिकर्णगदान् हरेत् ||१७||

शालभेद (सर्जक)-

सर्जकोऽन्योऽजकर्णः स्याच्छालो मरिचपत्रकः |

अजकर्णः कटुस्तिक्तः कषायोष्णो व्यपोहति |

कफपाण्डुश्रुतिगदान् मेहकुष्ठविषव्रणान् ||१८
HABITAT: Indigenous to the Evergreen forests of the Western Ghats from North Kanara to Kerala and also extensively planted as an avenue tree in Karnataka.
BOTANICAL DESCRIPTION: Evergreen trees with cylindrical, straight boles, growing up to 40 m tall, occasionally up to 60 m. In evergreen forests, the trees can grow to large girth, with an individual reaching up to 5.26 m in girth recorded in Kodagu. The bark is smooth, grey with green and white blotches on the trunk and a cream colored blaze. On scarring, it exudes a white, aromatic resin. The tree has dense foliage in a oval or dome-like canopy. The young branchlets are nearly cylindrical and have stellate (star-shaped) hairs.
AYURVEDIC CHARACTERISTICS:
RASA
GUNA
VIRYA
VIPAKA
PRABHAVA
DOSHGHNTA
Katu, Tikta,

Kasaya

Snigdha,

Usna

Usna
Katu
Varnya,

Krmighna

Kaphaghna,

Vatahara
AYURVEDIC ENERGETICS:
TASTE

PROPERTY

POTENCY

POST DIGESTIVE EFFECT

EFFECT ACTION

DOSHA ACTION

Pungent, Bitter

Astringent

Unuctous, Hot

Hot

Undergoes Pungent taste after digestion

Anti-Helmenthic

Pacifies vitiated kapha and vata dosha
MAJOR CHEMICAL CONSTITUENTS: Resins
THERAPEUTICS:
It improves the Skin Tone & Complexion.

Useful in productive cough & asthma.

It is useful in Excessive sweating also.

Given in Diarrhea & Dysentery.

Effective in Worm Infestation
INDICATIONS:
Atisara Diarrhea, Grahani IBS, krmi roga Helmenthiasis, kandu Itching, kustha Skin Disorders, prameha Urinary Disorders, Raktadosa Blood Disorders, vata rakta Gout.
USEFUL PART: Bark, Gum
DOSAGE: 1-2 gms
AYURVEDIC FORMULATION:
1. Kacchuradi curna lepa
2. Pinda taila
3. Lavangadi Churnam
4. Chinchadi Tailam
5. Sarvamyathaka Ghrutam