BOTANICAL NAME: Morus alba
FAMILY: Moraceae
CLASSICAL CLASSIFICATION:
Bhavprakash– Amradivarga.
ENGLISH NAME: Mulberry
COMMON NAME:
Hindi- shahtoot, tutri
Punjabi– toot
Kannad- Resh–may–gida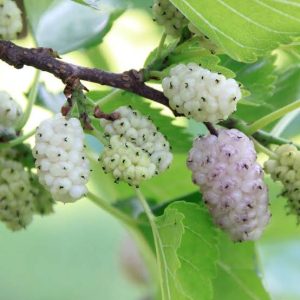 REFERENCE: BHAVAPRAKASH SAMHITA with link e Nighantu:
https://niimh.nic.in/ebooks/e-Nighantu/bhavaprakashanighantu/?mod=read
तूतःस्थूलश्चपूगश्चक्रमुकोब्रह्मदारुच |
तूतंपक्वंगुरुस्वादुहिमंपित्तानिलापहम् |
तदेवामंगुरुसरमम्लोष्णंरक्तपित्तकृत्||   
HABITAT: White mulberry is widespread in the U.S., occurring in every state of the lower 48 except for Nevada.
BOTANICAL DESCRIPTION: Deciduous tree, 30-50 ft. tall; young bark, inner bark and bark along the roots is bright orange; older bark is grey with narrow irregular fissures; bark splits easily; stems are glabrous to pubescent, not thorny. Leaves are alternate, simple, glossy above, toothed, unlobed or lobed with one or many, sometimes deep lobes; upper leaf surface glossy, glabrous or slightly scabrous; lower leaf surface glabrous, or slightly pubescent on the veins and in the vein axils only. Flowers, fruits and seeds: flowers are produced in Spring; male and female flowers are on separate plants; male flowers are small, green and occur in 1-2 in. long catkins; female flowers are inconspicuous and crowded in short spikes; fruits form from female flowers; fruits are multiple-seeded berries that range in color from black to pink to white when ripe; contain abundant seed–a single tree is estimated to produce twenty million seeds.
AYURVEDIC CHARACTERISTICS:
RASA

GUNA

VEERYA

VIPAKA

PRABHAVA

DOSHAGHNTA

Madhura

Amla

Guru
Sheeta
Madhura
Vatashamaka
AYURVEDIC ENERGETICS:
TASTE
PROPERTY
POTENCY
POST DIGESTIVE

EFECT

EFFECT

ACTION

DOSHA ACTION

Sweet

Heavy

Cold

sweet

Pacifying vata
MAJOR CHEMICAL CONSTITUENTS: The plant is rich in phenolics. The leaves contain flavonoids, artocarpin, cycloartocarpin and analogues. The root of the plant contains flavonoids like kuwanons, sangennons, mulberrosides and mulberofurans. The small branches contain mulberrin, fructose, glucose, falvonoid, coumarin, arabinose, xylose, stachyose, sucrose. The fruit contains carotene, vitamins A and C, thamene, riboflavin, tannin, linoleic and stearic acids.
THERAPEUTIC USES:
Gingivitis– The paste of the bark of tuta is applied on the area affected with dental caries.
Diabetes- Decoction of the bark is to be given 40 to 50ml.
Burning mictutrition- Root bark decoction is to be given in a dose of 40 to 60 ml
Scabies- The paste of the leaves or bark of root is to be applied externally
INDICATIONS:
Prameha Diabetes, Jwara fever, Mukhapaka Stomatitis, Sandhivata Osteoarthritis.
USEFUL PART: Fruit, leaf, bark
DOSAGE: Bark powder- 3 to 5 g
Decoction- 50 to 100 ml