BOTANICAL NAME: Shorea robusta
FAMILY: Dipterocarpaceae
CLASSICAL CLASSIFICATION:
Charaka: Vedanasthapana, Kasaya, Skandha
Sushruta: Salasaradi gana, Rodhradi gana
Bhavaprakash: Vatadi varga
ENGLISH NAME: Sal tree
COMMON NAME:
Hindi name: Shala
Punjabi name: Sal, Seral
Bengali name: Salagacha
Kannada name: Bailbobbu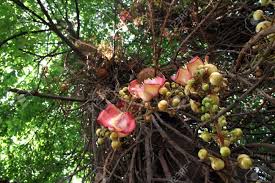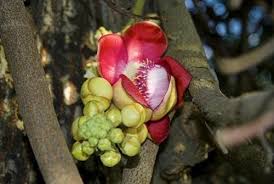 REFERENCE: BHAVAPRAKASH SAMHITA with link e Nighantu:
https://niimh.nic.in/ebooks/e-Nighantu/bhavaprakashanighantu/?mod=read
शालस्तु सर्जकार्श्याश्वकर्णकाः शस्यशम्बरः |

अश्वकर्णः कषायः स्याद् व्रणस्वेदकफक्रिमीन् |

ब्रध्नविद्रधिबाधिर्ययोनिकर्णगदान् हरेत् ||१७||

शालभेद (सर्जक)-

सर्जकोऽन्योऽजकर्णः स्याच्छालो मरिचपत्रकः |

अजकर्णः कटुस्तिक्तः कषायोष्णो व्यपोहति |

कफपाण्डुश्रुतिगदान् मेहकुष्ठविषव्रणान् ||१८||
HABITAT: It is grown in part of North East and Central India and also in Nepal and Bhutan.
BOTANICAL DESCRIPTION: It is large gregarious, sub-deciduous tree, seldom quite leafless. Its Bark is reddish brown or grey, smooth or longitudinally fissured. The Leaves are of 10-30cm× 5-18 cm, ovate -oblong, shinning when mature. The Flowers are axillary and Fruit is about 10-15 mm long, 10mm in diameter, ovoid.
AYURVEDIC CHARACTERISTICS:
| | | | | | |
| --- | --- | --- | --- | --- | --- |
| RASA | GUNA | VEERYA | VIPAKA | PRABHAVA | DOSHGHNTA |
| Kashaya(twaka), kashya- Madhura(raal) | Ruksha | Sheeta | Katu | Vednasthapana | Pitta and kapha shamana |
AYURVEDIC ENERGETICS:
TASTE

PROPERTY

POTENCY

POST DIGESTIVE EFFECT

EFFECT ACTION

DOSHA ACTION

Astringent,

Astringent-sweet

Dry

Cooling

Pungent

Pain reliever

Pitta and kapha pacifying
MAJOR CHEMICAL CONSTITUENTS: Terpene, Furfural
THERAPEUTIC USES:
Galaganda– Salaniryasa along with Gomutra to be administered orally.
Pandu– Salasaradi gana churna and Amalaki powder with honey is taken internally.
Prameha: Sala, Saptaparna, Kampillaka, Vibhitaki, Kapittha, Rohitaka and Arjuna are to be powdered and administered orally with honey and Amalaki swarasa as Anupana.
Hikka & shwasa– The fumes of resin from S. robusta (Sarja rasa) may be useful.
INDICATIONS:Kanda bhagnafractures, Visa rogapoisoning, Kusthaskin diseases, Pramehadiabetes, Vranaear diseases, Atisaradiarrhoea, Kandu pruritis.
USEFUL PART: Bark and extract
DOSAGE: Decoction of bark- 50-100ml, powder of resin- 1-3gm
AYURVEDIC FORMULATION:
1. Saalsaaradi kwatha
2. Atasyaadi lep
3. Sarjarasa Malhar