BOTANICAL NAME: Salmalia malabarica
FAMILY: Bombacaceae
CLASSICAL CLASSIFICATION:
Charaka: Purisa virajaniya, Sonitasthapana, Vedanasthapana, Kasaya skanda
Sushruta: Priyangvadi
ENGLISH NAME: silk cotton tree
COMMON NAME:
Hindi: semal
Kannada: kempuburunga
Bengali: shimul
Punjabi: simble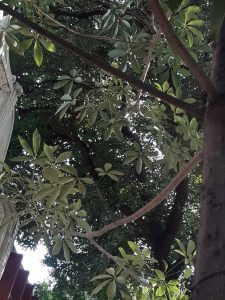 REFERENCE: BHAVAPRAKASH SAMHITA with link e Nighantu:
https://niimh.nic.in/ebooks/e-Nighantu/bhavaprakashanighantu/?mod=read
शाल्मलिस्तु भवेन्मोचा पिच्छिला पूरणीति च |
रक्तपुष्पा स्थिरायुश्च कण्टकाढ्या च तूलिनी ||४५||शाल्मली शीतला स्वाद्वी रसे पाके रसायनी |
श्लेष्मला पित्तवातास्रहारिणी रक्तपित्तजित् ||४६||
HABITAT: distributed throughout the hotter parts of the country up to 1500 m or more.
BOTANICAL DESCRIPTION: It is a lofty deciduous tree buttressed at the base upto 40 mt in height and 6mt in girth Branches horizontally spreading more or less in whorls young stems and branches with stout large prickles. Leaves are large spreading glabrous digitate leaflets lanceolate 10-12 cm long flowers numerous large bright fleshy crimson yellow or orange, clustered at the end of branches. Bisexual Fruits of the capsules are oblong ovoid smooth seeds are many with dense silky hairs.
Flowering and fruiting during January to march.
AYURVEDIC CHARACTERISTICS:
RASA
GUNA
VEERYA
VIPAKA
PRABHAVA
DOSHGHNTA
Madhura

(Mochras kashay)

Laghu, snigdh,

Pichchil

Sheeta
Madhur

(Mochras katu)

Purishvirajniya
Kaphpittshamak
AYURVEDIC ENERGETICS:
| | | | | | |
| --- | --- | --- | --- | --- | --- |
| TASTE | PROPERTY | POTENCY | POST DIGESTIVE EFFECT | EFFECT ACTION | DOSHA ACTION |
| sweet | Light, oily | Coolant | sweet | Detoxifying stool and restore natural colors of stool | Kapha-pitta pacifying |
MAJOR CHEMICAL CONSTITUENTS: saponins, tannins and gums
THERAPEUTIC USES:
Atisara:Cold infusion of salmali petioles should be given with yashtimadhu and honey.
Vrana:Salmali bark and Bala root etc. shall be applied externally.
Pradara:Salmali flowers are cooked with ghee and rock salt and given orally as vegetable dish.
INDICATIONS: Pravahika Dysentry, Atisara Diarrhoea
USEFUL PART: root, flower, fruit, mochras
DOSAGE: Root powder 3-5 gm, gum 1-3 gm, flower juice 10-20 ml
AYURVEDIC FORMULATION:
Shalmali ghrita