BOTANICAL NAME: Solanum xanthocarpum
FAMILY: Solanaceaeharaka
CLASSICIAL CLASSIFICATION:
Charaka: Kasahara, Sothahara, Hikkanigrahana, Kanthya, Angamardaprasamana
Sushruta: Brihatyadi, Varunadi, Laghupanchamoola
ENGLISH NAME: Febrifuge plant
COMMON NAME:Bengali name- Kantikari
Punjabi name– Kandiyari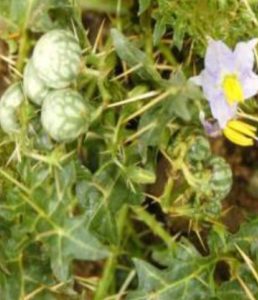 REFERENCE: BHAVAPRAKASH SAMHITA with link e Nighantu:
https://niimh.nic.in/ebooks/e-Nighantu/bhavaprakashanighantu/?mod=read
गुडूच्यादिवर्ग कण्टकारी कण्टकारी तु दुःस्पर्शा क्षुद्रा व्याघ्री निदिग्धिका |

कण्टालिका कण्टकिनी धावनी बृहती तथा ||३३||

क्षुद्रा या क्षुद्रभद्राख्या बृहतीति निगद्यते |

श्वेता क्षुद्रा चन्द्रहासा लक्ष्मणा क्षेत्रदूतिका |

गर्भदा चन्द्रमा चन्द्री चन्द्रपुष्पा प्रियङ्करी ||३४||

कण्टकारी गुण-कण्टकारी सरा तिक्ता कटुका दीपनी लघुः |

रूक्षोष्णा पाचनी कासश्वासज्वरकफानिलान् ||३५||

निहन्ति पीनसं श्वासपार्श्वपीडाहृदामयान् |

तयोः फलं कटु रसे पाके च कटुकं भवेत् |

शुक्रस्य रेचनं भेदि तिक्तं पित्ताग्निकृल्लघु ||३६||

हन्यात्कफमरुत्कण्डूकासमेदकृमिज्वरान् |

तद्वत्प्रोक्ता सिता क्षुद्रा विशेषाद्गर्भकारिणी ||३७||
HABITAT: Perennial, very prickly diffused herb of waste land, found throughout India.
BOTANICAL DESCRIPTION:
The leaves are petiolate, exstipulate, ovate oblong or elliptic, sinuate or sub-pinnatifid, subacute hairy, 4-12.5 cm long and 2-7.5 cm wide, green, veins and midrib full with sharp prickles, odor and taste not distinct. The flowers are ebracteate, pedicellate, bisexual, pentamerous, regular, complete, bright blue or bluish purple, calyx-persistent, gamosepalous, tube short, globose, linear-lanceolate, acute, hairy, 0.5-1 .3 cm long and densely prickly, corolla gamopetalous, lobes deltoid, acute, hairy, 1-2 cm long and purple in color, stamens 5, epipetalous, basifixed, filament short 1-1.5 mm long, anther, oblong lanceolate, 0.7-0.8 cm long, ovary superior, ovoid, glabrous, bilocular with axile placentation having numerous ovules. The fruits are berry globular, measuring 0.8-1 cm in diameter, surrounded by persistent calyx at base unripe fruits variegated with green and white strips; ripe fruit shows different yellow and white shades. The seeds are circular, flat, numerous, embedded in a fleshy mesocarp about 0. 2 cm in diameter and glabrous.
AYURVEDIC CHARACTERISTICS:
RASA
GUNA
VEERYA
VIPAKA
PRABHAVA
DOSHGHNTA
Katu,

Tikta

Laghu Rooksha Teekshna (piercing)
Ushna
Katu
Kaashar
Kaphavatashamak
AYURVEDIC ENERGETICS:
| | | | | | |
| --- | --- | --- | --- | --- | --- |
| TASTE | PROPERTY | POTENCY | POST DIGESTIVE EFFECT | EFFECT ACTION | DOSHA ACTION |
| Pungent, Bitter | Light, Dry, Sharp | Heating | Pungent | Cough | Kapha-vata pacifying |
MAJOR CHEMICAL CONSTITUENTS: Glucoalkaloids and sterols.
THERAPEUTIC USES:
Aruchihara– useful in relieving anorexia
Jvarahara– useful in fever
Vatahara– useful in treating disorders of Vata Dosha imbalance
Amadoshahara– relieves Ama – a state of disturbed digestion and metabolism
Kantakari fruit is especially useful in treating fever
Kanduhara– it is useful in treating pruritis (excessive itching)
INDICATIONS:
Kasa cough, Sothaedema, Hikka hiccups, Mutrakrichha dysuria, Ashmaristones
USEFUL PART: whole plant, root, fruit
DOSAGE: 20-30 g of the drug for decoction.
AYURVEDIC FORMULATION:
panchtikataka grihta