BOTANICAL NAME: Santalum album 
FAMILY: Santalanaceae
CLASSICAL CLASSIFICATION
Charak– Dahaprasamana, Angamadaprassamana, Trishnanigrahna
Sushrut– Salasaradi, Sarivadi, Patoladi, Guducyadi
Bhavprakash– Kapooradivarga
ENGLISH NAME:Sandalwood
COMMON NAME:
Hindi Name- Safed chandan
Telugu Name- TellaChandanam
Bengali Name- Chandan
Kannada Name- Chandana, Gandha
PLANT IMAGE with Unique Identification Feature: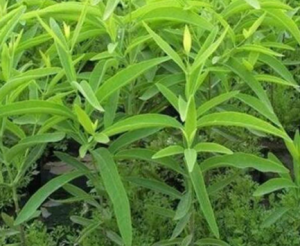 REFERENCE: BHAVAPRAKASH SAMHITA with link e Nighantu:
https://niimh.nic.in/ebooks/e-Nighantu/bhavaprakashanighantu/?mod=read
श्रीखण्डं चन्दनं न स्त्री भद्रः श्रीस्तैलपर्णिकः |
गन्धसारो मलयजस्तथा चन्द्रद्युतिश्च सः ||११||
स्वादे तिक्तं कषे पीतं छेदे रक्तं तनौ सितम् |
ग्रन्थिकोटरसंयुक्तं चन्दनं श्रेष्ठमुच्यते ||१२||
चन्दनं शीतलं रूक्षं तिक्तमाह्लादनं लघु |
श्रमशोषविषश्लेष्मतृष्णापित्तास्रदाहनुत् ||१३||
HABITAT: Found in dry-scrub forests, Vindhya mountains, mainly in Karnataka and Tamil Nadu.
BOTANICAL DESCRIPTION:
A small or medium-sized tree, with slender branches,
18 m high. Bark- dark grey or nearly black or red-dish. It has vertical striations.
Sapwood- unscented and whitish yellow, aromatic and hard, contains oil. Heartwood scented and light yellowish brown (fresh one) or dark brown or reddish brown (dried).
Leaves are elliptic-ovate of ovate-lanceolate, glabrous, 1.5-8.0 cm x 1.6-3.2 cm size.
Flowers are maxillary and terminal paniculate brownish purple, violet or straw-coloured. It is odourless. Fruit- drupe, purple-black, globose. Seeds- globose or ovoid.
AYURVEDIC CHARACTERISTICS
RASA

GUNA

VEERYA

VIPAKA

PRABHAVA

DOSHAGHNTA

Tikta

Madhura

Laghu

Ruksha

Shita
Katu
Kapha-pittahara
AYURVEDIC ENERGETICS
| | | | | | |
| --- | --- | --- | --- | --- | --- |
| TASTE | PROPERTY | POTENCY | POST DIGESTIVE EFFECT | EFFECT ACTION | DOSHA ACTION |
| Sweet | Dry, light | Cold | Pungent | | Pacifying kapha ,pitta |
MAJOR CHEMICAL CONSTITUENTS:
3 to 6% volatile oil is derived from the heartwood androots. Roots contain comparatively more oil, 125 gmof oil can be derived from 20 kgs. of sandalwood.
This oil is yellow, thick, having fragrance, bitter andpungent. Sandalwood oil contains 90% santalol.
Sandalwood oil- alfa santalol, bitasantene and santalenes, santenol, teresantalol, nor-tricycloekasantalal, 1 -santenone, santanone, teresantalic acid
Other parts-Santalic acid, n-ocacosanol, plamitoneetc.
THERAPEUTIC USES
Diabetes- In shukrameha– the decoction of Arjuna & Chandana is recommended and in
Manjisthameha, the decoction of Majistha & Chandana is recommended. Chandana is given along with the juice of Amalaki.
Leucorrhea– Chandana is given with milk, ghee, sugar and honey.
INDICATIONS–
Dahahara Relives burning sensation, Jwar Pyrexia, Shotha Inflammation.
USEFUL PART: Heartwood, oil
DOSAGE: Powder 3-4 grams, decoction 50-100ml, Oil – 5 – 10 drops.
AYURVEDIC FORMULATIONS
1. Chandanadichurna
2. Chandanadivati
3. Chandanasava
4. Chandanabala-lakshaditaila
5. Chandanadighrita
6. Chandanaditaila
7. Chandanadikvatha