BOTANICAL NAME: Sesamum indicum
FAMILY: Pedalianeae
ENGLISH NAME: Sesamum seeds
COMMON NAME:
Hindi: Tila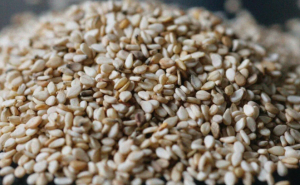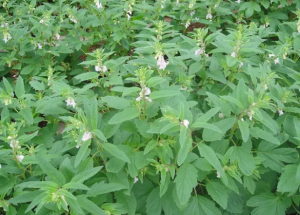 REFERENCE: BHAVAPRAKASH SAMHITA with link e Nighantu:
https://niimh.nic.in/ebooks/e-Nighantu/bhavaprakashanighantu/?mod=read
तिलः कृष्णः सितो रक्तः सवर्ण्योऽल्पतिलः स्मृतः |
तिलो रसे कटुस्तिक्तो मधुरस्तुवरो गुरुः |
विपाके कटुकः स्वादुः स्निग्धोष्णः कफपित्तनुत् ||५३||
बल्यः केश्यो हिमस्पर्शस्त्वच्यः स्तन्यो व्रणे हितः |
दन्त्योऽल्पमूत्रकृद् ग्राही वातघ्नोऽग्निमतिप्रदः ||५४||
कृष्णः श्रेष्ठतमस्तेषु शुक्रलो मध्यमः सितः |
अन्ये हीनतरः प्रोक्तास्तज्ज्ञै रक्तादयस्तिलाः ||५५||
HABITAT: All over india
BOTANICAL DESCRIPTION:
Habit: An erect, annual 60-180 cm high herb. Leaves are 7-12 cm long, simple, upper oblong, middle ovate and toothed, lower lobate. Flowers are tender, ciliated, bluish, whitish, brown or yellowish, hairy or glabrous. Fruits are capsular, oblong- subtriangular, slighted compressed
Seeds: small, white, brownish or black.
AYURVEDIC CHARACTERISTICS:
RASA

GUNA

VEERYA

VIPAKA

PRABHAVA

DOSHAGHNTA

Madhura

Kshaya

Tikta

Guru

snigdha

Ushna
Madhur
Medhya

Vrishya

Artavjanan

Vatahara
AYURVEDIC ENERGETICS:
TASTE
PROPERTY
POTENCY
POST

DIGESTIVE

EFFECT

EFFECT ACTION
DOSHA ACTION

Sweet, Bitter

Heaviness.

Hot

sweet

Hair tonic, rejuvenator

Pacifies vatakapha
MAJOR CHEMICAL CONSTITUENTS: Seeds- vitamin A, B, C, Oil- Oil contains sesamin, fat, protein, fibrous matters, carbohydrates, calcium, phosphorous.
THERAPEUTIC USES:
Dysuria – Tila is considered as the best medicine.
Fistula – Tila is made into paste and applied locally with ghee.
Abdomen pain – Tila is mixed with rock salt and used.
INDICATIONS:
Aruchi Anorexia, Anaaratav Amenorrhea, Arsh Haemorrhoids
USEF9UL PART: Seeds oil.
DOSAGE: 5-10 gm- powder; 10-20 ml- oil
AYURVEDIC FORMULATION:
1. Tila prayoga
2. Tiladigutika
3. Tilastaka
4. Tiladi lepa