BOTANICAL NAME: Operculinaterpethum
FAMILY: Convolvulaceae
CLASSICAL CLASSIFICATION:
Charak- Bhedaniya
Sushrut- Shyamadivarga
ENGLISH NAME: Indian jalap
COMMON NAME: Nisoth
English: Indian Jalap
Tamil Name– Sivadai, kumpncan, paganrai
Kannada Name– Vilitigada, aluthigida, bangadaballi, bilitigade, devadanti, nagadanti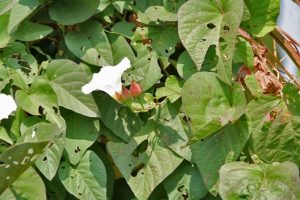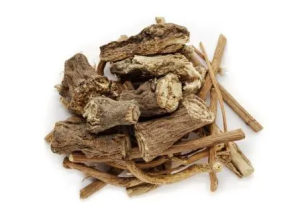 REFERENCE: BHAVAPRAKASH SAMHITA with link e Nighantu:
https://niimh.nic.in/ebooks/e-Nighantu/bhavaprakashanighantu/?mod=read
श्वेतात्रिवृत्-
श्वेता त्रिवृता भण्डी स्यात् त्रिवृता त्रिपुटापि च |
सर्वानुभूतिः सरला निशोत्रा रेचनीति च ||१६५||
श्वेता त्रिवृद्रेचनी स्यात्स्वादुरुष्णा समीरहृत् |
रूक्षा पित्तज्वरश्लेष्मपित्तशोथोदरापहा ||१६६||
श्यामात्रिवृत्-
त्रिवृत्श्यामार्द्धचन्द्रा च पालिन्दी च सुषेणिका |
मसूरविदला कोलकैषिका कालमेषिका ||१६७||
श्यामा त्रिवृत्ततो हीनगुणा तीव्रविरेचिनी |
मूर्च्छादाहमदभ्रान्तिकण्ठोत्कर्षणकारिणी ||१६८||
HABITAT: Common in waste places and thickest throughout India ascending upto 1000m.
BOTANICAL DESCRIPTION:
A stout twinner stem quadrangular, winged, hairy, erect, compressed or nearly round. Leaves are ovate or oblong, base caudate or obtuse. Flowers are in few flowered cymes, bract oblong, caudous, often pinkish; sepals ovate (much enlarged in fruit), softly pubescent; petals white, tubular-campanulate. Fruits are 4-seeded, globose capsule. Seeds are smooth, black. Flowering and fruiting during May-November.
AYURVEDIC CHARACTERISTICS:
RASA

GUNA

VEERYA

VIPAKA

PRABHAVA

DOSHAGHNTA

Tikta

Katu

Laghu

Ruksha

Tikshna

Ushna
Katu
Virechan

Raktashodak

Kaphapitthara
AYURVEDIC ENERGETICS:
TASTE
PROPERTY
POTENCY
POST DIGESTIVE

EFFECT

EFFECT ACTION
DOSHA

ACTION

Bitter, pungent

Light

Hot

Pungent

Purgative

Blood purifier

Pacifying kaphavatta
MAJOR CHEMICAL CONSTITUENTS: Root bark contains trephine which causes purgation. Besides this, it has resin, yellow coloured principle, albumin, starch. lignanine, iron and some cc-and3-Turpethins, scopoletin, turpethinic acids A.turpethin, scopoletin, coumarin etc.
THERAPEUTIC USES:
Gout- Decoction of Trivruta, Vidari is useful (B.P. & V.S.)
Typhoid– Trivruta is taken with honey.
Cardiac disorder– Rasa kriya of Trivruta should be given with sugar and honey
INDICATIONS:
Vataraktanasha Gout, vran ulcer, Udarashula Abdominal pain, Javara fever.
USEFUL PART: Root bark, leaves
DOSAGE:
Powder: 1gm
AYURVEDIC FORMULATION:
1. Trivrutadichurna
2. Trivrutadi gutika
3. Trivrutadighrit
4. Avipttikarachurna