BOTANICAL NAME: Ocimum sanctum
FAMILY: Lamiaceae
CLASSICAL CLASSIFICATION:
ENGLISH NAME: Indian basil/ holy basil
COMMON NAME:
Hindi name- Tulsi
Kannada name– Sri Tulasi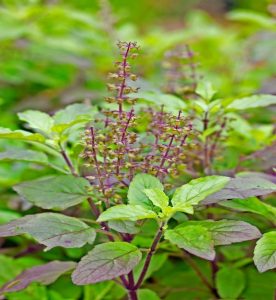 REFERENCE: BHAVAPRAKASH SAMHITA with link e Nighantu:
https://niimh.nic.in/ebooks/e-Nighantu/bhavaprakashanighantu/?mod=read
तुलसी सुरसा ग्राम्या सुलभा बहुमञ्जरी |
अपेतराक्षसी गौरी भूतघ्नी देवदुन्दुभिः ||५०||
तुलसी कटुका तिक्ता हृद्योष्णा दाहपित्तकृत् |
दीपनी कुष्ठकृच्छ्रास्रपार्श्वरुक्कफवातजित् |
शुक्ला कृष्णा च तुलसी गुणैस्तुल्या प्रकीर्तिता ||५१||
HABITAT: Found throughout India. Now being cultivated extensively.
BOTANICAL DESCRIPTION:
A shrub of height 0.5 to 0.75cm, branched, sometimes woody, hairy. Leaves are oblong or ovate-oblong, obtuse or acute entire or substrate, having strong odour. Flowers are very small, inflorescence 12 to 14 cm long, borne in terminal and axillary racemes. Fruits are subglobose or broadly oblong nutlets. Seeds are small, pale black or red. Flowering and Fruiting are throughout the year but mainly in winter.
AYURVEDIC CHARACTERISTICS:
RASA

GUNA

VEERYA

VIPAKA

PRABHAVA

DOSHAGHNTA

Katu

Tikta

Laghu

Ruksha

Ushna
Kat
Dipana

Krimighana

Kaphavatahara
AYURVEDIC ENERGETICS:
TASTE
PROPERTY
POTENCY
POST DIGESTIVE EFFECT
EFFECT ACTION
DOSH

Pungent

Bitter

Light

Dryness

Hot

Pungent

Digestive, Worm infestation

Pacifying kapha, vata
MAJOR CHEMICAL CONSTITUENTS: Bornyl acetate, cadinene, camphene, camphor, carvacrol, beta-caryophellene, eugenol, eugenol methyl ether, methyl chavicol, limonene etc.
THERAPEUTIC USES:
Cough– Fresh juice of Krishna Tulsi is given with honey.
Makkalashula-Juice of Tulasi leaves is taken with old jaggery and Manda.
Pakshmasata– A copper vessel is impregnated with paste of Puspa Kasisa mixed with tulasi juice and left for 10 days. After wards that paste is collected and used as Anjana.
INDICATIONS:
Hrudya Cardiac Disorder, Shwasahar Asthma, Kash Cough, chardi Vomiting, visha Anti toxic
USEFUL PART: Leaves, seeds, whole plant
DOSAGE:
Fresh juice 10-20 ml
Root Decoction 50-100 ml
Seed Powder 3-6 g
AYURVEDIC FORMULATION:
1. Surasadigana Kasaya
2. Surasaditaila
3. Tumburvadi yoga
4. Nimbadilepa
5. Sahacharaditaila