BOTANICAL NAME: Abroma augusta
FAMILY: Sterculiaceae
ENGLISH NAME: Devil's Cotton
COMMON NAME: Yoshini, Pivari, Pishacha Karpas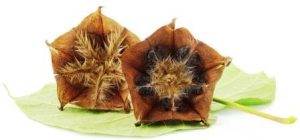 HABITAT: Ulat kambal is cultivated all over India, more oftenly in the Tropical regions. Priorly in the hotter and moist parts of Punjab Uttar Pradesh, Assam, Meghalaya, Arunachal Pradesh, Tripura etc. It is distributed in Malayan Archipelago
BOTANICAL DESCRIPTION:
A large shrub 1-2m tall or small tree of 5-6ın high. The Stem is Vinaceous purple, softly pubescent. The leaves are alternate, simple, 14-22*8-15cm, Ovate or palmately 3-5 lobed or angled with entire margins. The base is Cordate. Apex is acuminate. The flowers are attractive, vinaceous purple 5-7cm across 2-3 in extra axillary cymes staminal tube short staminodes petaloid. The fruits are a turbinate, Singled, 5 locular and 5 winged abconical truncate capsule of 4-5cm long. Seeds are many and black in color.
AYURVEDIC CHARACTERISTICS:
RASA
GUNA
VEERYA
VIPAKA
PRABHAVA
DOSHGHNTA
Tikta, Katu
Laghu, Rooksha
Ushna
Katu
Garbhasya
Dosha- Kapha-Vaata shamak, Pitta vardhak

Dhatu-Raktadoshaharam
AYURVEDIC ENERGETICS:
| | | | | | |
| --- | --- | --- | --- | --- | --- |
| TASTE | PROPERTY | POTENCY | POST DIGESTIVE EFFECT | EFFECT ACTION | DOSHA ACTION |
| Bitter, Pungent | Light, dry | Heating | Pungent | Contraceptive | Kapha-vata pacifying |
MAJOR CHEMICAL CONSTITUENTS: Primarily the plant contains alkaloid,
Root bark- mixed oils resins Aloeids water soluble base.
Roots- A bromine, Friedelin Abromasterol choline, betaine
Leaves- Taraxerol and its acetate, beta sitosterol acetate
Stem bark- beta sitosterol, friedelinram
THERAPEUTIC USES:
Female infertility: Root powder or fresh juice is administered 3 – 5 days before the expected date of menstruation till bleeding starts.
INDICATIONS:
Yonivyapad Gynaecological disorders, Bandhytva female infertility.
USEFUL PART: root/root bark, leaves
DOSAGE: powder: 1-3 g; fresh juice 5-10 ml
AYURVEDIC FORMULATION:
Pishacha Karpasa