BOTANICAL NAME: Ocimum basilicum
FAMILY: Lamiaceae
ENGLISH NAME: Great basil
COMMON NAME:
Hindi: barbari , ramtulsi
Punjabi: baburi
Bengali: babui tulsi
Kannada: kaama gaggare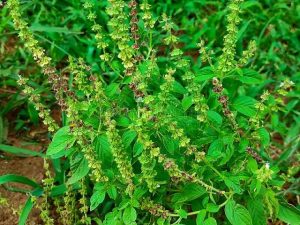 REFERENCE: BHAVAPRAKASH SAMHITA with link e Nighantu:
https://niimh.nic.in/ebooks/e-Nighantu/bhavaprakashanighantu/?mod=read
तुलसी सुरसा ग्राम्या सुलभा बहुमञ्जरी |

अपेतराक्षसी गौरी भूतघ्नी देवदुन्दुभिः ||५०||

तुलसी कटुका तिक्ता हृद्योष्णा दाहपित्तकृत् |

दीपनी कुष्ठकृच्छ्रास्रपार्श्वरुक्कफवातजित् |

शुक्ला कृष्णा च तुलसी गुणैस्तुल्या प्रकीर्तिता ||५१||
HABITAT: Ocimum basilicum is native to tropical Asia, Africa and America and cultivated in Europe, South-west Asia and the USA
BOTANICAL DESCRIPTION:
Ocimum basilicum is an erect herb grows to a height of 30 – 60 cm. Leaves 2-5 cm long, opposite, ovate and aromatic. Flower pale purple or white, arranged in a terminal spike. Nutlets, small, ellipoides and black. Stem glabrous, hairy at the nodes.
AYURVEDIC CHARACTERSTICS:
RASA
GUNA
VEERYA
VIPAKA
PRABHAVA
DOSHGHNTA
Katu
Laghu ruksha

Tikshna

Sheeta
Katu
Vidahi

Ruchikarak

Deepana

Kaphavatahara
AYURVEDIC ENERGETICS:
| | | | | | |
| --- | --- | --- | --- | --- | --- |
| TASTE | PROPERTY | POTENCY | POST DIGESTIVE EFFECT | EFFECT ACTION | DOSHA ACTION |
| Pungent | Light, dry, sharp | Coolant | Pungent | Digestion, anorexia | Kapha and vata pacifying |
MAJOR CHEMICAL CONSTITUENTS: Terpenoids, alkaloids, flavonoids, tannins, saponin glycosides and ascorbic acid.
THERAPEUTIC USES:
Kaphaja kasa: Fresh juice of krishna tulasi is given with honey.
Makkalasula: juice of tulasi leaves is taken with old jaggery and manda.
INDICATIONS:
Hikka Hiccups, Kasa cough, Krimi Antihelmintic
USEFUL PART: whole plant, seeds
DOSAGE: juice: 3-5 ml
Seed powder: 3-6 gms
AYURVEDIC FORMULATION:
1. Surasadi tailam
2. Nimbadi lepa
3. Sahacharadi taila