BOTANICAL NAME: Dioscorea bulbifera Linn
FAMILY: Dioscoreaceae
CLASSICAL CLASSIFICATION:
Bhavaprakasha: Guduchyadi varga
ENGLISH NAME: Air potato
COMMON NAME:
Hindi: Saralu, Gaithi
Bengali: Banalu, Pitalu
Kannada: Heggenasu, Kuntu genasu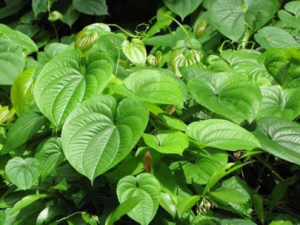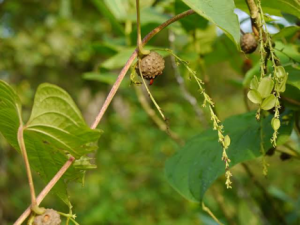 REFERENCE: BHAVAPRAKASH SAMHITA with link e Nighantu:
https://niimh.nic.in/ebooks/e-Nighantu/bhavaprakashanighantu/?mod=read
HABITAT: Common in the jungles, on low hills throughout the greater portion of India. It is not usually cultivated.
BOTANICAL DESCRIPTION: The stems are prickly and furrowed slender. Leaves are alternate foliate, petiole 1-2½" inch long, Leaflets are eliptic, lanceolate, ovate or obovate. Male flowers are pale, greenish, and fragrant, in slender pedunculate racemes. Female flowers are in axillary pendulous spikes. Flowers are also eaten as vegetable during rainy season.
AYURVEDIC PROPERTIES:
RASA

GUNA

VEERYA

VIPAKA

PRABHAVA

DOSHGHNTA

Madhura, katu

Laghu, Singhda
Ushna
Katu
–
vata, kapha balance

pitta vriddhi
AYURVEDIC ENERGETICS:
TASTE

PROPERTY

POTENCY

POST DIGESTION EFFECT

ACTION

DOSHA ACTION

Sweet, Astringent

Light, Unctuous
Hot
Pungent
–
Balances vata and kapha,

Increases

Pitta
MAJOR CHEMICAL CONSTITUENTS: Three furanoid norditerpenesdiosbulbins A, B, C, D, E, F, G, H, diosbulbinosides
THERAPEUTIC USES:
Ulcers: Dried powder is to be used as an external application
Skin diseases: Tuber powder is to be applied externally
INDICATIONS:
Prameha Diabetes mellitus, Vicharchika Eczema, Kitibha Psoriasis, Krimiroga Intestinal worms
USEFUL PART: Tuber, bulbils
DOSAGE: 3-6 g per day
AYURVEDIC FORMULATION:
Rasayana